Traci Maccoux, recovering in hospital in a photograph released by her family to the Guardian. Photograph: Cathy Maccoux
When Traci Maccoux, 22, a graphic-design student from Minnesota, got a call on her cellphone warning that she was at risk from meningitis from a potentially contaminated steroid injection, she laughed it off.
She was too young, she thought, as many of those who contracted the disease were in their 60s or 70s. Besides, Maccoux has a chronic pain condition and had spent the summer looking for a sympathetic and reputable clinic to treat it. Now that she had found one locally and had her epidural steroid shots, she wanted to get on with her studies, get back to her recent passion for photography and forget about all that medical stuff.
Days later, when the headaches and vomiting came, she put on a pair of sunglasses and dismissed it as a bad migraine, which she has had before. Her mother, Cathy, had difficulty persuading her to go to hospital to get tested, just in case.
On 5 October, the results of her lumbar puncture confirmed the worst. The black mould, aspergillis, had been detected in her spine. She became the fifth person in Minnesota to test positive for fungal meningitis linked to the tainted steroid produced by New England Compounding Center (NECC).
Maccoux is one of more than 300 patients in 17 states who have been diagnosed with the disease from the outbreak linked to NECC. Some have had strokes associated with the infection. On Wednesday, the Centers for Disease Control and Prevention (CDC) said another person had died, bringing the death toll to 24. Up to 14,000 people have been told they are at risk, though most are not expected to become ill.
"I was alone when I got the call," said Maccoux, who has has reflex sympathetic dystrophy (RSD), a condition that causes chronic pain in the arms and legs and for which she sought the steroid shot. "I was shocked. I thought: that's not possible. There are thousands of people who got that injection."
When she got to hospital, doctors told her the fungus was in her brain and that, without treatment, it could kill her. "It hit me then," she said. "I started to get a little scared."
Little is known about these affected individuals, save what appears in sporadic news reports, amid a scandal that has brought in its wake a litany of unanswered questions regarding oversight and responsibility for regulating compound pharmacies, of which NECC was one.
But the diagnosis has pitched Maccoux and her family, who have coped with her pain since she contracted RDS at the age of 11, into a "whole different ballpark" of suffering.
Step into the unknown
Maccoux had two sets of two injections, in July and August at the Maps pain clinic in her Minnesota suburb, to alleviate the pain associated with RSD and to allow her to prepare for college life. The clinic is one of 75 that received contaminated steroids from NECC. It is not clear how many vials were contaminated among the tainted batches sent, according to CDC.
But for Maccoux, the past three weeks have been a nightmare of operations, blood tests, new drugs and a frightening lack of knowledge from medical professionals about everything to do with the infection.
She has been told very little about her prognosis, the treatment or the long-term side effects of the anti-fungal drug which she may have to take for up to a year, she said. She still has headaches and she has been told not to drive. She gets tired easily. She has had to drop out of her semester at college because of the battery of operations and tests she has had to undergo.
Her initial drug treatment caused aural hallucinations which she described as "kind of creepy". The second drug, Voriconazole, worries her more.
"It was kind of scary and it still is," she said. "They don't know the long-term side effects of what they are doing. They haven't used the medicine much. The doctors don't really say much; they are going by what the CDC says. They haven't experienced this type of infection before and that's scary, too."
"I have to be on it for three or four months and that's only if I'm doing well."
The possible side effects listed from Voriconazole are wide-ranging and include behavioural changes, visual disturbances, problems with speech and skin problems. Another issue for Maccoux and her family is the availability and the cost of the medicine. At $75 dollars a tablet and at three tablets a day, it costs them over $6,000 a month. And the hospital will only dispense two or three tablets at a time.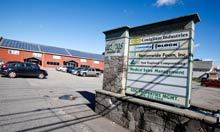 Maccoux is now taking legal action against NECC and is being represented by Fred Pritzker, an attorney based in Minneapolis. Pritzker, who is representing about 40 of those affected by the health scandal, has described it as a example of "corporate irresponsibility abetted by regulatory failure", and has called on Congress to set up a compensation fund for people injured and the families of those killed by the outbreak.
There is also an application under way to have a multi-district litigation (MDL) suit, which will bring litigants together under one court. Lawyers representing those affected expect NECC, which is no longer operational, to declare itself bankrupt and thus complicate the legal process further.
As the outbreak has progressed, a picture has emerged of NECC as a company that repeatedly failed to follow standard procedures to keep its facilities clean and its products sterile. NECC was violating state law by shipping drugs in bulk without patient-specific prescriptions, officials from Massachusetts state have said.
Records released this week also show the state knew NECC had violated prescription laws over the past decade, but the state never took disciplinary action, despite complaints from doctors and officials in Iowa, Wisconsin and Texas.
One former compound pharmacist, Eric Kastango, who now works in quality control, described it as a "preventable" tragedy. Amid calls for about loopholes in federal regulation to be closed to better regulate compounding pharmacies, questions are increasingly being raised about the regulation of the company by the state.
Lawsuits are rising in number and broadening in scope, with some attorneys filing suits against the pain clinics and the physicians who administered the shots.
'It could be a year before I'm done with the medicine'
Asked whether the drugs are working, Maccoux said: "They can't really tell us. They have to check my blood every week and see how the level of fungal infection is, whether it goes up or down. It could be a few months to a year before I'm done with the medicine."
The infection has also had an impact on a pain treatment that Maccoux was getting for her RSD, which flares up twice a month but which was beginning to be brought under control.
Very quickly after her diagnosis, Maccoux had to undergo a spinal operation to remove a spacer for a spinal-chord stimulator – a device which had been inserted to treat her chronic pain with electrodes which alter the signals in her brain, turning the pain into tingling.
Doctors told her if she kept the spacer, the fungal infection would never go away. Because of the infection, she was told, she would never be able to get the spacer inserted again – closing the door on a treatment for her pain that had not long been opened.
"I was not happy about that," she said. "That was a huge problem. The stimulator really helps so that really sucked. It made me really sad."
Maccoux's mother Cathy said that even for a family used to dealing with medical issues – she has another daughter with hydroencephalopathy – this has hit them very badly. They are dealing not only with the uncertainty of Maccoux's infection and the effect of the pain that was being managed and will now return – they are also struggling with the cost of the tablets.
She said: "We know how to deal with the system, but this has been very hard for us. We are fighting with our insurance company right now. I don't think they are going to cover the cost of the drug. I can't imagine an elderly person going through this."
Cathy Maccoux, who usually works in childcare but who has had to concentrate on looking after her daughter full-time, driving her to doctors and hospital appointments, said: "The most difficult thing is I'm really sad for her. After a rough year she was getting her life back on track."
Maccoux herself said she is angry at the NECC and Maps, the pain-treatment clinic which administered the drug.
Maccoux said: "I'm angry at the companies involved – Maps, and the company that made the drug. I know people make mistakes, but this is a huge mistake that caused a lot of deaths. I'm angry about it, and I'm sad."
Source: http://www.guardian.co.uk/world/2012/oct/25/meningitis-victim-contaminated-injection