Some Birth Injuries Are The Result Of Medical Errors
Whether your child's birth injury was caused by lack of oxygen to the brain or trauma suffered during the birth/delivery process, the results can have devastating, life-altering effects. Lack of oxygen to the brain — hypoxia or anoxia — can result in profound disability requiring lifelong medical care and attention. Physical trauma — due to forceps or vacuum extractors — can lead to developmental delays. You are entitled to seek monetary compensation from those responsible for these injuries through birth injuries claims.
At Goethel Engelhardt, PLLC, our Ann Arbor, MI birth injury attorneys have a long history of representing clients through complex birth trauma or gynecology malpractice cases, including those involving:
Compression of the umbilical cord during labor or delivery
Prolapse of the umbilical cord during delivery
Separation of the placenta before delivery of the baby
Rupture of the uterus
Eclampsia or preeclampsia
Erb's palsy
Shoulder dystocia
Infection or sepsis
Improper fetal monitoring during labor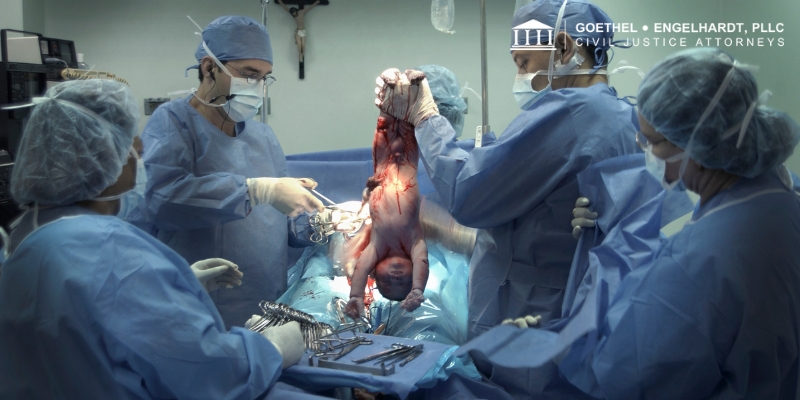 Frequently Asked Questions About Birth Injuries
How do I know if my child is suffering from a birth injury or a birth defect?
A diagnosis is needed in order to determine precisely what occurred during the delivery. After a diagnosis, it will be easier to determine if your child's issue is due to a complication during birth or if it is the result of genetics, infection or a post-birth injury.
How do we know who is at fault?
Our firm does a thorough investigation into every aspect of your case, including consulting with expert witnesses, reviewing the paperwork, interviewing those involved with the birth and more. You can be sure that before we file your case, we will discover as much as possible about the circumstances surrounding your child's injury.
How long does a birth injury case last?
Although it is imperative to file your suit as soon as possible to follow statute of limitations guidelines, it is difficult to predict how long a case will take. It depends on a number of circumstances, including how many other cases are on the docket, the response times of other parties and more. We are committed to getting you through the process as efficiently as possible so you can move forward.
We Are Here To Help
If your child has suffered birth injury or trauma due to any of these circumstances, please contact a lawyer at Goethel Engelhardt, PLLC, to determine if you have a case for medical malpractice. We can be reached by phone at 734-545-8421 or through our convenient online contact form.