Medical Malpractice Attorney in Ann Arbor, MI
Every day, thousands of people in Ann Arbor and surrounding areas trust medical professionals to provide safe and effective medical care. Unfortunately, not all medical personnel meet the required duty of care; medical negligence is a leading cause of accidental deaths and injuries throughout the United States. When medical professionals fail in their professional obligations to prevent harm to their patients, it leads to costly corrective medical treatment, lost income, and even permanent injuries for some victims.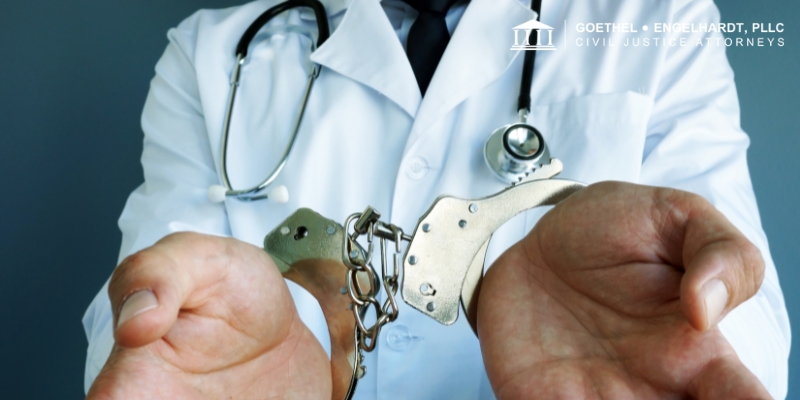 Medical Errors Can Be Life-Changing
With advancements in medical science and technology, U.S. health care should be exceptionally safe. It is not. Hundreds of thousands of patients are injured or killed each year by the mistakes of medical professionals.
The impact of medical malpractice is devastating. Patients and families are left overwhelmed and shattered. When it happens, you need an experienced legal team that will get the answers you deserve and aggressively pursue the compensation you are owed.
Goethel Engelhardt, PLLC, has litigated Michigan medical malpractice cases for 30 years. Our aggressive advocacy in complex cases helps clients win compensation for negligence and preventable errors by medical providers. Find out if you have a case.
What Is Medical Malpractice?
Doctors can't cure or save every patient. But they can be held accountable for mistakes, poor decisions or substandard care that results in serious injury or death. Our trial lawyers have secured significant verdicts and settlements in a wide range of cases:
Birth injuries and gynecology malpractice
Surgery and anesthesia errors
Emergency room malpractice
Failure to diagnose cancer at an early stage
Failure to diagnose life-threatening conditions like heart attack or stroke
Mistakes in prescribing and administering medications
Other malpractice of doctors, nurses and hospital staff
Nursing home abuse and neglect
Medical malpractice is the third leading cause of death in the United States. The United States Food and Drug Administration has determined that medication errors alone injure or kill 1.3 million people each year.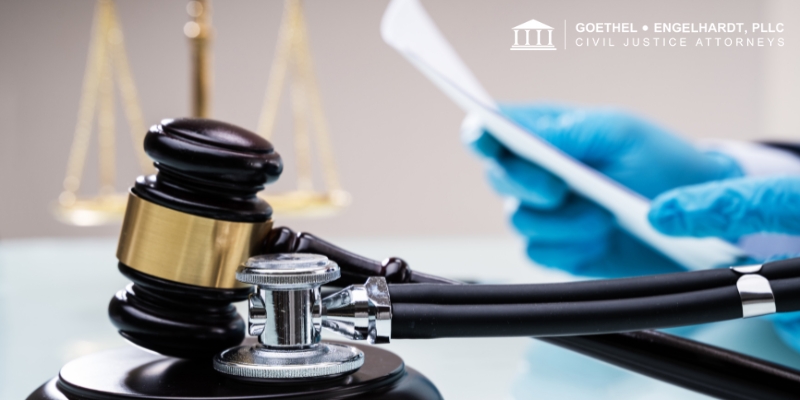 Why File A Medical Malpractice Suit?
Instead of holding doctors accountable for bad choices that harm patients, Michigan has enacted laws that protect hospitals, doctors and their insurance companies. These laws include arbitrary caps on the compensation an injured patient or his or her family can receive for their human losses. There are laws that keep important evidence away from juries and allow negligent doctors to escape accountability. Other laws make medical malpractice claims very expensive to pursue. All are designed to keep injured patients from seeking justice in our court system.
The law firm of Goethel Engelhardt, PLLC, helps level the playing field for the average individual. Our Ann Arbor medical malpractice attorneys conduct a thorough investigation and invest in top medical experts around the country who can pinpoint how doctors and medical personnel deviated from the standard of care. Read more about how we prove malpractice.
Our accomplished trial lawyers are regularly sought by firms outside Michigan as local counsel in medical malpractice litigation. We also welcome case referrals.
Legal Representation for Ann Arbor Medical Malpractice Claims
If you or a loved one recently suffered any kind of injury due to negligent or incompetently performed medical treatment, you may have grounds for a medical malpractice lawsuit. While medical malpractice falls within the scope of personal injury law in Michigan, these cases involve various unique statutes that can be very difficult to navigate. Therefore, it's essential to have legal counsel you can trust when you are facing a medical malpractice claim of any kind. The Ann Arbor medical malpractice attorneys at Goethel Engelhardt, PLLC, are ready to assist you with your claim. We understand how challenging such cases are, and we aim to provide you the best legal help possible to help you overcome the challenges your injuries have caused.
Why Do I Need an Ann Arbor Medical Malpractice Lawyer?
Attempting to handle any personal injury claim on your own is difficult and risky. Even though it may be technically possible to manage your claim successfully on your own, the actual process is far more complex than many people realize. Also, handling the various procedural steps your medical malpractice claim entails can be incredibly challenging while you are already struggling with a painful recovery. Instead of making an already challenging situation even more complicated, hire an experienced Ann Arbor medical malpractice attorney to represent you and guide you through your case. Approach your case with confidence when you work with our team.
Goethel Engelhardt, PLLC, has years of experience providing comprehensive and compassionate legal counsel to victims of medical malpractice throughout Michigan. Our team understands that no two claims are exactly alike, and we take time to get to know every client we represent. We believe that client-focused legal representation is the best way to ensure the fullest recovery possible.
A medical malpractice claim begins with a Notice of Intent to Sue and an affidavit of merit. The former is an official notice sent by the victim of medical malpractice to the defendant they believe responsible for their damages. The latter is a formal letter signed by a medical professional verifying that the defendant failed to meet the plaintiff's standard of care and directly caused their injuries. Michigan enforces a two-year statute of limitations on medical malpractice claims, so it's best to start working on your case as soon as possible to meet this deadline.
Medical Malpractice Claims We Handle
Medical malpractice takes many forms, and the team at Goethel Engelhardt, PLLC, can provide the comprehensive legal representation you need for your unique case. Some of the most commonly filed medical malpractice claims in Michigan pertain to:
Surgical errors. If a surgeon performs a procedure incorrectly, they may be able to fix the problem immediately with no harm done to the patient. However, if they make a severe mistake that harms the patient or fail to monitor the patient's vital signs correctly during the procedure, these missteps can result in tremendous harm.
Anesthesia errors. Whenever a patient requires anesthesia for a procedure, the attending medical team must ensure the patient receives the correct medication in the correct dosage. Any negligent mistakes with anesthesia can be severely damaging or even life-threatening to the patient.
Birth injuries. Childbirth requires constant monitoring of both the mother and her child, and the attending medical staff must follow appropriate procedures when handling childbirth. Birth injuries can easily result in permanent disabilities for an infant or life-threatening medical complications for the mother.
Birth trauma. Birth trauma is often underreported. It's what happens when a mother experiences severe psychological distress during or after childbirth. Such trauma can have lasting consequences.
Medication errors. Prescribing doctors must ensure their prescriptions are accurate and suitable for patients' conditions and medical needs. An improperly prescribed medication can be extremely harmful. Additionally, pharmacists can incur liability for medication errors if they fill prescriptions incorrectly, such as providing a patient with the wrong medication or dosage.
Emergency room malpractice. Emergency rooms can be chaotic, but the medical staff responsible for addressing emergency room patients must do so with the utmost care and attention. When negligence prevents an emergency room patient from receiving the treatment they need, or when ER doctors make negligent errors in treatment, patients can suffer devastating effects.
These are only a few examples of the types of medical malpractice claims that might manifest in the Ann Arbor, MI, area. Therefore, if you believe your recent experience constitutes grounds for legal action, it is essential to contact an experienced Ann Arbor medical malpractice attorney as soon as possible.
Can I Claim Compensation for Medical Malpractice?
Medical malpractice can easily result in tremendous losses for the affected patient and their family. Under Michigan's personal injury laws, a medical malpractice claim plaintiff has the right to seek total compensation for all economic losses directly resulting from the malpractice they experienced. These economic damages can include any additional medical expenses the plaintiff incurred for necessary corrective treatment. They may also include lost income if the plaintiff cannot return to work due to their injury.
Michigan law also allows plaintiffs in medical malpractice claims to seek compensation for their pain and suffering. However, these non-economic damages are limited by state law. The cap adjusts for inflation each year, and as of 2021, a plaintiff could receive up to $476,600 in pain and suffering compensation. If they acquired a permanent disability from medical malpractice, this cap increases to $851,000.
Your Ann Arbor medical malpractice lawyer will be an essential asset when it comes to securing the fullest recovery possible. When you choose Goethel Engelhardt, PLLC, to represent you, our team will thoroughly review every aspect of your claim and help you secure as much compensation as possible for your damages.
Take Action To Protect Your Rights
We get at the truth of what happened and provide skilled advocacy in a legal system stacked against patients. But medical malpractice is subject to a shorter statute of limitations than other types of injury. Don't let your rights and legal remedies expire.
Start Your Claim Today
Time is critical for most personal injury claims in Michigan, but this is especially true for medical malpractice cases with a much shorter statute of limitations. Additionally, acting quickly to build your case ensures the freshness of evidence you may need to substantiate your claim. Therefore, the sooner you connect with an Ann Arbor medical malpractice attorney, the better your chances are of maximizing your recovery.
Goethel Engelhardt, PLLC, can provide the compassionate and meticulous legal counsel you need to approach your medical malpractice claim with understanding and confidence. Contact us today for more information about how we can assist you with your medical malpractice case in Ann Arbor.