Muskegon Anesthesia Errors Attorney
Anesthesia is a necessity for most surgical procedures, and is administered every day in the treatment of patients in the Muskegon area. While the purpose of anesthesia is to eliminate pain and/or induce unconsciousness, anesthesia does not always work as intended. When an anesthesia-related injury occurs in a medical setting because of the negligence of the presiding medical care team, this can form the basis of a medical malpractice action.
Experienced Legal Representation for Anesthesia Error Claims
If you are struggling with the effects of an anesthesia error, an experienced medical malpractice attorney can offer the professional legal representation you need to approach your recovery efforts with confidence. The team at Goethel Engelhardt, PLLC, has years of experience handling these cases, and we have secured many substantial case awards on behalf of our clients. We can put this experience to work in your anesthesia error claim, helping you to ensure accountability for the damages you suffered.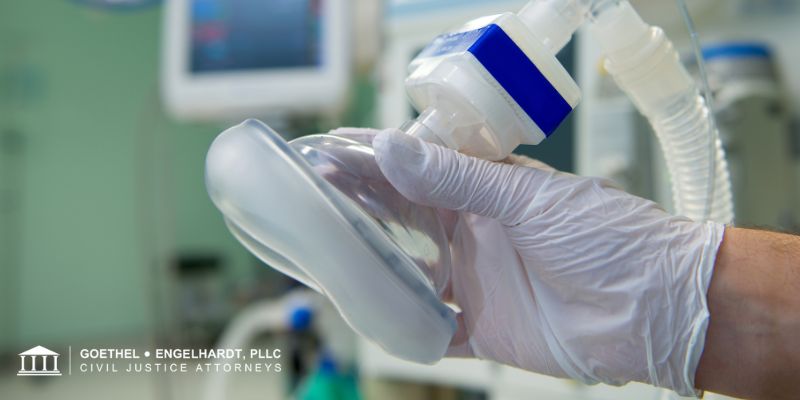 Defining Anesthesia Error Injuries
There is a degree of risk involved in medical procedures. However, attending physicians, anesthesiologists, and other medical professionals have a duty to always adhere to the standard of care.
Many anesthesia error cases arise from failure to monitor patient vital signs and address signs of patient distress. Other cases are the results of misadministration of anesthesia, which may result in direct injury. Ultimately, any negligent application of anesthesia can potentially form the foundation of a medical malpractice claim.
Anesthesia injury can potentially cause a host of medical complications. A patient may sustain acute damage from the incident itself and also experience a range of long-term complications. Some patients, unfortunately, develop permanent disabilities from these incidents. Goethel Engelhardt, PLLC, can help assess the full scope of damage you suffered from your recent anesthesia injury and guide you during the process of filing a medical malpractice suit.
If you think you have a basis for a medical malpractice suit because you suffered an anesthesia injury, a medical malpractice attorney can help advise you through the preliminary requirements of your medical malpractice action. Medical malpractice can cause a range of financial effects on the victim and their family, and your medical malpractice attorney is the best resource you have for maximizing your compensation.
FAQs About Muskegon, MI Anesthesiologist Medical Malpractice Law
How Do You Prove Fault for a Michigan Anesthesia Error?
The exact cause of your medical injury may be related to anesthesia, but it can be very difficult to firmly prove the nature and cause of the error that led to your injury. An experienced medical malpractice attorney can be invaluable in this situation. They can locate a medical professional who can provide concise insights into your situation, helping you prove exactly how the anesthesia error occurred and establishing the defendant's liability for your damages.
How Much Compensation Can I Recover for an Anesthesia Error Injury?
The total potential value of your claim hinges on several factors including the severity of your injury and the scope of the resulting damages. If you incurred additional medical expenses, lost income due to an extended recovery time, and suffered from long-term medical complications, these will be taken into account while reviewing your claim.
How Much Do Medical Malpractice Attorneys in Muskegon Cost to Hire?
When you choose Goethel Engelhardt, PLLC, as your medical malpractice attorneys, you will only pay a legal fee if we win your case, and the fee you pay is a percentage of your final case award. This contingency fee billing system allows you to approach your case calmly and ensures the maximum compensation possible for your injury.
Goethel Engelhardt, PLLC, has successfully represented a range of medical malpractice claims for our clients in the Muskegon area, including those arising from anesthesia errors. We know how challenging it is to approach any complex medical malpractice case, especially when you are struggling in the aftermath of a damaging anesthesia error injury. If you are ready to learn how an experienced medical malpractice attorney practicing in Muskegon can assist with your recovery, contact us today and schedule your free consultation with our firm.