Muskegon Medical Malpractice Attorneys Specializing In Surgical Errors
Thousands of Michigan residents undergo surgical procedures each year. Surgeons are required to convey the risks of these procedures to their patients. They are also required to adhere to the applicable standards of care for their profession while administering the needed surgical care.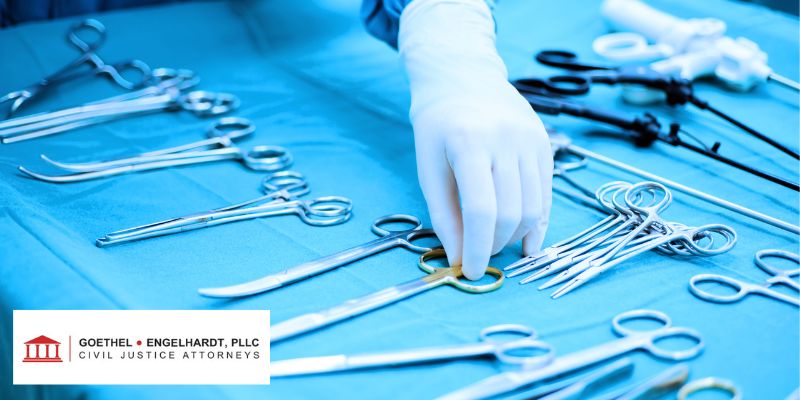 Experienced Legal Counsel for Muskegon Surgical Error Claims
If you or a family member is struggling in the aftermath of a surgical error resulting from negligence, you need to know your rights. Goethel Engelhardt, PLLC, has extensive experience handling a wide range of medical malpractice cases on behalf of clients throughout Michigan, including the Muskegon area. If you believe you have been harmed by negligent surgical care in any way, we can help determine your most viable options for legal recourse.
Building a Surgical Error Case in Muskegon
Surgical error claims may involve operating on the wrong body part, performing the wrong procedure on the patient, or causing traumatic injury inside of a patient's body due to negligence. It is also possible for a surgeon to face legal action if they attempt a procedure while under the influence of alcohol or drugs, while lacking the necessary experience, or by leaving a surgical instrument inside of a patient. A surgical error has the potential to cause severe harm to the victim, including permanent disabilities, diminished earning capacity, long-term symptoms, pain and suffering, and sometimes death.
When you choose Goethel Engelhardt, PLLC, as your legal counsel, we can help determine the full scope of damages you can seek for your surgical error claim. Our goal is to provide peace of mind and reliable legal counsel in this situation to help you.
FAQs About Muskegon, MI Surgery Errors Law
How Can You Sue for Surgical Malpractice?
To succeed with a surgical error claim, you must prove that the defendant violated the standard of care. Your medical malpractice attorney can help gather evidence to show the defendant who harmed you violated the applicable standard of care and directly caused your claimed damages.
How Much Compensation Can I Recover for a Surgical Injury in Muskegon?
State law allows the victim of any form of medical malpractice to recover repayment of their economic losses, including the cost of restorative medical care needed after a surgical error. They can also seek compensation for lost income if they have been rendered unable to work, as well as non-economic damages. The attorneys at Goethel Engelhardt, PLLC are experienced in assessing claims involving these complex damages.
How Much Will It Cost to Hire a Medical Malpractice Attorney?
When you choose Goethel Engelhardt, PLLC, as your legal representative, we will only take a percentage of the total amount we recover on your behalf as our fee, and only if we are successful in pursuing your case.
Goethel Engelhardt, PLLC, has years of experience handling a wide range of complex medical malpractice cases on behalf of our clients in Muskegon and throughout the state. We know the legal challenges you are likely to face as you seek accountability and compensation for a surgical error, and we want to help you approach your case with confidence. Contact us today to schedule a free consultation and learn more about the legal services we offer.