Muskegon Hospital Malpractice Attorney
The hospitals operating in Muskegon and surrounding communities are responsible for ensuring that the patients who enter their facilities receive the appropriate and necessary medical care. Hospitals are required to ensure their hired medical professionals are capable of meeting the standards of care in their respective specialties. When patients suffer harm because of a hospital's failure to meet these requirements, these incidents may result in medical malpractice claims.
Helping Clients in Muskegon, MI, Hold Negligent Hospitals Accountable
Goethel Engelhardt, PLLC, has a team of experienced attorneys who have successfully assisted many past clients with various medical malpractice claims in Muskegon. If you believe a local hospital bears responsibility for the damages that you recently suffered while under their care, our firm can provide the guidance and support needed to ensure accountability for your damages.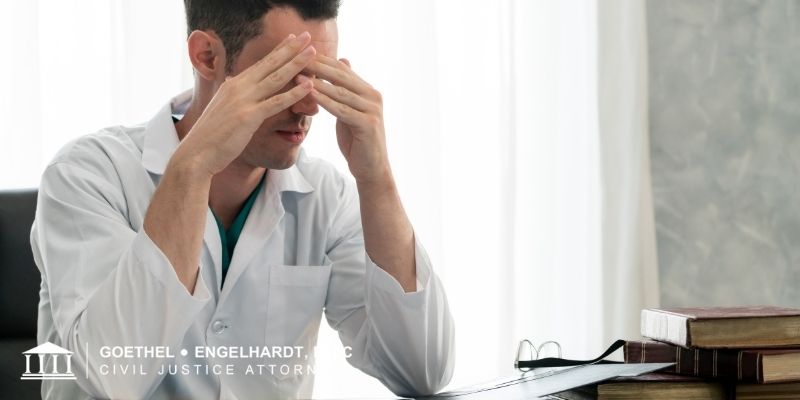 Defining Hospital Negligence in Muskegon
Hospital negligence occurs whenever a hospital fails to ensure appropriate standards of care for a patient. While many medical malpractice claims focus on specific health care professionals, some pertain to negligence committed by hospitals. A few examples of hospital negligence that can lead to a medical malpractice claim include:
Negligent hiring.
Inadequate training and safety protocols. Hospitals must ensure all employees receive proper training for performing their job duties safely and ensuring positive patient outcomes. Hospitals may absorb liability for malpractice claims if they fail to ensure staff members have the requisite training and experience to keep patients safe, or if they failed to enforce appropriate security measures that result in harm to patients.
Improper record management. If a hospital's recordkeeping policies are lacking, it can result in patients undergoing unnecessary and potentially harmful treatments, and various other problems that may generate malpractice claims.
Hospital negligence can occur in many different ways. If you are unsure whether a recent injury in a Muskegon area hospital provides grounds for a medical malpractice claim, it is vital that you speak with an experienced medical malpractice attorney right away. When you have Goethel Engelhardt, PLLC, as your counsel, we will guide you through the process.
FAQs About Muskegon, MI Medical Negligence Law
What Is the Most Difficult Part of Winning a Medical Malpractice Case?
Every medical malpractice claim revolves around the standard of care. Every individual has a unique physiology, so it is important to recognize when an injury has been caused by negligence and/or professional misconduct.
Why Do I Need to Hire a Lawyer for a Hospital Negligence Case?
Even if you think liability for your damages is perfectly clear and that you have a firm grasp on the total scope of the damages you suffered, it is imperative to acknowledge the importance of having legal counsel that you can trust for your potential negligence case. Your legal representative can handle your case proceedings while you focus on recovery.
How Much Does It Cost to Hire Medical Malpractice Lawyers?
State law limits how much attorneys may charge their clients for representation in their medical malpractice claims. When you choose Goethel Engelhardt, PLLC, to represent you in a hospital malpractice case, we only take a percentage of the total amount we recover on your behalf if we win your case. There are no upfront fees to hire us.
The team at Goethel Engelhardt, PLLC, is ready to provide the comprehensive legal representation you need to win your potential hospital negligence claim. Our firm has assisted many past clients with a wide range of various medical malpractice claims, and we are ready to put this experience to work in your case. If it's time to learn how our team can help you, contact us right away to set up a consultation with a medical malpractice attorney.