Muskegon Nurse Malpractice Attorney
People throughout Michigan trust nurses and other healthcare professionals to provide safe and effective care every day. While most can recover with the help of responsible and compassionate care, some patients are unfortunately injured by the negligence of their caregivers.
Experienced Legal Representation for Nursing Malpractice Claims in Muskegon
Nurses are invaluable to the American healthcare system, and while most do their utmost for their patients, some violate their responsibility to not harm their patients. When nursing malpractice occurs, a victim must know their rights and the value of having experienced legal counsel.
Goethel Engelhardt, PLLC, offers years of professional experience in medical malpractice law to our clients in the Muskegon area. Our goal in every case we accept is to provide the compassionate legal counsel our client needs to approach their case with confidence and peace of mind.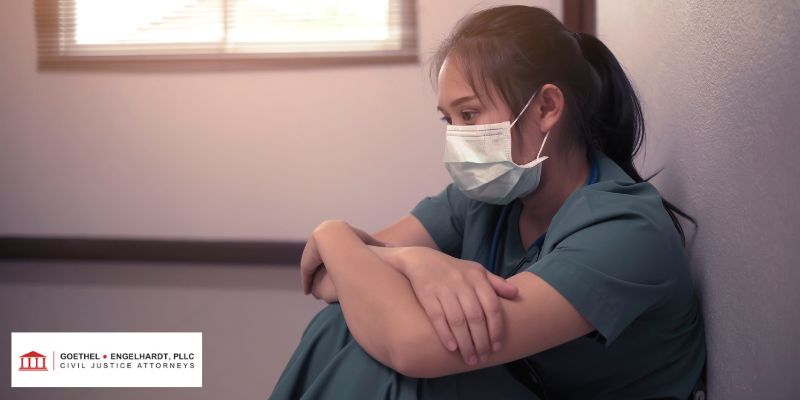 Understanding Nursing Malpractice Cases
Nursing malpractice occurs when a nurse fails to perform their professional duties within the standard of care, resulting in patient harm.
When you choose Goethel Engelhardt, PLLC, as your legal representative, we can work closely with you to determine whether malpractice occurred, identify the party(s) responsible for your damages, and help you meet all the procedural requirements of your claim.
Our firm can provide the comprehensive guidance and support you will need to navigate your case as fluently as possible. Time is a critical factor in any medical malpractice case, so it's important to reach out to a medical malpractice attorney you can trust as soon as possible if you believe you have grounds for a claim.
FAQs About Muskegon, MI Malpractice Law
How Can a Nurse Be Held Liable for Negligence?
Success with a nursing malpractice claim requires proof that the nurse failed to meet the standard of care, proximately resulting in harm to the patient. Your medical malpractice attorney will know what evidence is needed to firmly prove your damages resulted from nursing malpractice.
How Much Does It Cost to Hire Muskegon area Medical Malpractice Attorneys?
Michigan law limits how much attorneys can charge their clients in medical malpractice claims. Goethel Engelhardt, PLLC, accepts clients on a contingency fee basis, which means we only take a fee once we have won compensation for our client.
Goethel Engelhardt, PLLC, can provide the comprehensive legal counsel you need for any nursing negligence or other medical malpractice case in the Muskegon area. We have years of experience helping clients navigate these complex cases, and we are ready to leverage this experience on your behalf. Contact our firm today and schedule a free consultation with a medical malpractice attorney you can trust with your claim.