Grand Rapids Emergency Room Error Attorney
Emergency rooms can be chaotic, filled with medical personnel doing their best to stabilize patients as quickly and efficiently as possible. While medicine is inherently uncertain, and there is a margin for error in every patient's treatment, there is a significant difference between an honest mistake and a failure to meet a patient's standard of care. When medical negligence occurs, patients can suffer life-changing injuries. Unfortunately, it's also possible for medical negligence to prevent a patient from receiving the treatment their situation demands, worsening their condition and potential outcomes.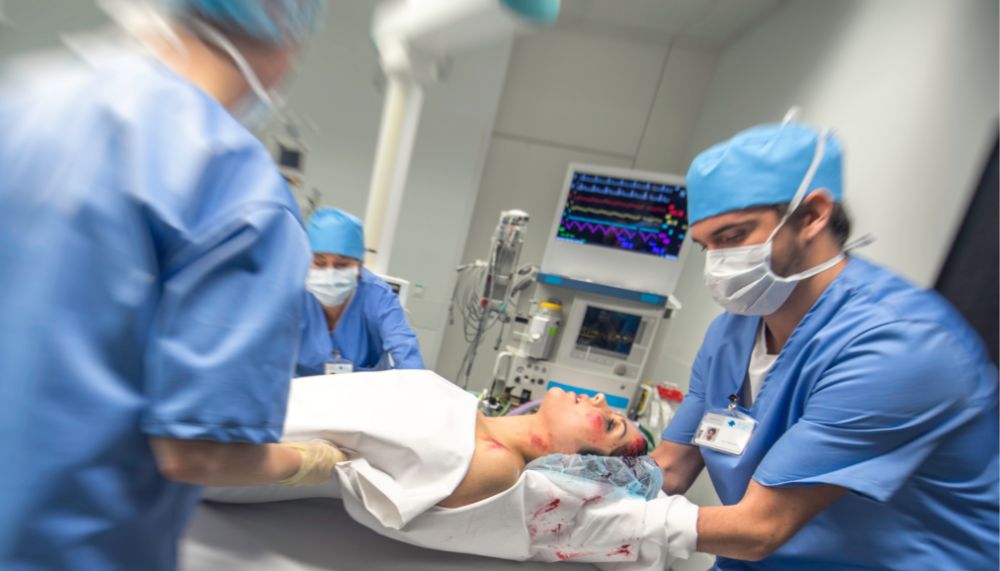 Representing Victims of Emergency Room Errors in Grand Rapids, MI
Honest mistakes may happen in the emergency room, especially when the symptoms of one condition mirror the symptoms of another or when patients have unique medical concerns. The vast majority of healthcare professionals working in Grand Rapids, MI, uphold their professional obligations in good faith, providing the best possible care to every patient while adhering to accepted standards of care. However, when emergency room personnel are careless, fail to follow applicable safety protocols, or do not meet a patient's standard of care, a medical malpractice claim can hold negligent medical professionals accountable for the damage their actions cause.
Goethel Engelhardt, PLLC, can provide the comprehensive legal counsel you need after suffering injuries from an emergency room error. Navigating any medical malpractice case can be incredibly difficult, and some victims may not realize they have grounds for legal recourse immediately after their experiences. As your Grand Rapids emergency room error attorneys, we can help you determine if you have grounds for a medical malpractice action, guide you through the preliminary stages of your case, and maximize your recovery from a successful civil suit.
Benefits of Legal Counsel for a Medical Malpractice Claim
An injured patient can technically file a medical malpractice claim alone. Some people who know they could take legal action refrain from doing so because they assume legal counsel would be too expensive. The reality is that hiring an experienced Grand Rapids emergency room error attorney can yield a much better result than the client could have obtained on their own, even when accounting for the cost of representation.
Attempting to manage complex civil court proceedings while recovering from painful injuries simultaneously would be incredibly challenging. The economic pressure any severe injury can create through increased medical bills and the inability to work can quickly become overwhelming. A victim has a limited time to act and file their medical malpractice case. Hiring an experienced Grand Rapids emergency room error lawyer makes it much easier to complete the procedural requirements of your case and maximize your recovery. In addition to increasing your odds of success with your emergency room error claim, your attorney can also uncover channels of compensation you may have overlooked on your own, enhancing your final recovery.
Goethel Engelhardt, PLLC, aims to provide compassionate and responsive legal counsel for every emergency room error case our firm accepts. However, regarding the potential cost of representation, Michigan state law limits the amount an attorney may charge their client in a medical malpractice claim in contingency fees. With a contingency fee, the client has no upfront legal costs, and the attorney's fee is a percentage of the final case award. Our team will carefully explain our billing policy, so there are no surprises at the resolution of your case.
Michigan Medical Malpractice Statutes
If you intend to file any civil lawsuit in Grand Rapids, MI, it's vital to know the procedural rules for the type of claim you plan to file. When it comes to medical malpractice cases, Michigan state law provides a two-year statute of limitations in which claimants may file their cases. This two-year time limit begins on the date an emergency room error or another injury from medical negligence occurs. However, some injuries from medical negligence are not immediately noticeable, and some time may pass after an injury before the victim realizes they have been hurt. In these situations, Michigan's discovery rule applies, and the victim has six months from the date they discovered the harm in question to file their claim.
While these time limits may seem generous, an emergency room error can quickly create serious problems for the victim, and it's vital for anyone in this situation to seek legal counsel as soon as possible. In addition to the state's statute of limitations, other procedural requirements must be met to file a medical malpractice case in Michigan. For example, state law requires the plaintiff to issue a Notice of Intent to File Suit to the defendant in their claim at least 182 days before filing the suit.
Michigan law also requires the plaintiff of a medical malpractice claim to secure an affidavit of merit from a qualified healthcare professional who can attest to the standard of care that should have been applied in the situation in question. An experienced Grand Rapids emergency room error attorney can help their client identify expert witnesses who can support their case. When it comes to compensation for an emergency room error, Michigan state law also restricts non-economic damages in medical malpractice cases. Experienced attorneys account for this and help clients determine the best methods for maximizing their case awards.
How to Prove Medical Malpractice
Success with a medical malpractice case requires establishing clear proof of medical negligence. While standard negligence is a failure to exercise reasonable care or to meet a duty of care, medical malpractice is a failure to meet the standard of care a patient requires, causing patient harm. The "standard of care" is the minimum level of accepted treatment a specific condition requires. Physicians, nurses, emergency room doctors, and all other medical treatment professionals must meet their patients' standards of care, only deviating from accepted treatments and techniques when a patient's individual needs call for unconventional care.
Proving medical malpractice requires establishing the standard of care that should have applied to the situation in question and then showing how the defendant breached this standard of care, resulting in harm to the claimant. An experienced Grand Rapids emergency room error attorney can help their client prove fault for malpractice and reveal the full extent of their resulting damages.
Damages and Compensation for an Emergency Room Error Claim in Michigan
If you or a loved one suffered harm from an emergency room error in Grand Rapids, it's possible to secure substantial compensation from a successful medical malpractice claim against the medical professional responsible for the injury. Michigan state law does not restrict the amount a plaintiff can claim in economic damages. Plaintiffs who suffer injuries from emergency room errors often face increased medical costs for treatment, lost income from the inability to work, and lost earning capacity when their injuries result in permanent harm.
An experienced Grand Rapids emergency room error lawyer can help their client assess the amount of economic damages resulting from malpractice. When it comes to non-economic damages that compensate the plaintiff's pain and suffering, state law sets two non-economic damage caps. As of 2021, plaintiffs could seek no more than $476,600 in non-economic damages for medical malpractice, increasing to $851,000 if the plaintiff suffered permanent harm. These limits increase each year to account for inflation.
FAQs About Grand Rapids, MI Emergency Room Error Law
Is the Hospital at Fault for an Emergency Room Error?
It's possible for more than one party to bear liability for an emergency room error. For example, if a specific medical professional directly harmed a patient through the negligent application of technique, but the hospital failed to accurately assess the doctor's qualifications or mishandled the treatment facility in any way, both parties could bear fault for an emergency room error. Your Grand Rapids emergency room error lawyer can help you identify the defendant or defendants liable for your damages.
How Long Does a Plaintiff Have to Sue for Medical Malpractice in Michigan?
The statute of limitations for medical malpractice claims in Michigan is two years from when the malpractice occurred. When the discovery rule applies, the statute of limitations is six months from the date of discovery. Therefore, it's best for anyone intending to file an emergency room error suit to work quickly, securing legal counsel and filing their case as soon as possible.
What Are the Most Common Emergency Room Errors Reported in Michigan?
Emergency room errors can include misdiagnosis or delayed diagnosis, which may expose the patient to unnecessary, ineffective, and potentially harmful procedures that do not address their actual ailments while preventing them from receiving proper treatment. It's also possible for an emergency room patient to not receive care promptly due to miscommunication or mismanagement of the emergency room, resulting in patient harm.
Is It Worth Hiring a Grand Rapids Emergency Room Error Attorney?
Working with an experienced Grand Rapids emergency room error lawyer significantly improves a plaintiff's chances of success with this difficult type of case. Navigating any medical malpractice case is much easier with reliable legal counsel representing the plaintiff. They can also increase their client's recovery to the fullest extent under state law. Therefore, it is always worth having legal representation for a complex medical malpractice case.
Goethel Engelhardt, PLLC, has extensive professional experience handling difficult medical malpractice claims in Michigan. We understand the uncertainty and distress that can follow an injury from an emergency room error and the difficult legal questions victims often have after these experiences. To discuss your legal options with an experienced Grand Rapids emergency room error attorney, contact us today and schedule your consultation with our team.