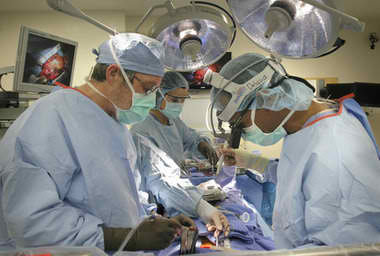 The Senate Insurance Committee did not approve Senate Bill 1116, which states that a health care professional or facility would not be liable in a malpractice case if the doctor acted with reasonable and good-faith belief that the conduct was well-founded in medicine and in the patient's best interests.
Senators heard hours of testimony from vocal opponents and also met privately with stakeholders, including a trial lawyers' group.
"It's as good as dead, this term especially," said committee Chairman Sen. Joe Hune, R-Hamburg Township. He said he's not optimistic for its chances next term either.
The bill was part of the "Patients First Reform Package," which supporters have said was introduced to address inequities in liability statutes and curb a looming physician shortage.
The committee approved three other medical malpractice reform bills, which could come up for a vote as soon as Thursday.
Senate bills 1115, 1117 and 1118 would reduce the amount of damages that could be awarded, expand the kinds of health care professionals that can be sued for malpractice and limit the time period for suing on behalf of a deceased person.
Hune said he plans to make changes to those bills on the Senate floor.
"We're still going back and forth on details," he said.
Attorney Norman Tucker, speaking on behalf of trial lawyer group Michigan Association for Justice, testified that the remaining three bills give economic immunity to doctors.
"It should be given time to try to rectify bills that both sides, I believe, would say they agree don't work and shouldn't be passed," he said.
Brighton resident Jay Jusufi testified against the bills, saying they seem to favor medical institutions and insurance companies rather than patients. Jusufi's wife, Pam, has been in the hospital for six weeks with a case of fungal meningitis linked to injectable steroids.
Hune stressed that the bills would have no impact on the meningitis cases.
Source: http://www.mlive.com/politics/index.ssf/2012/11/medical_malpractice_michigan.html