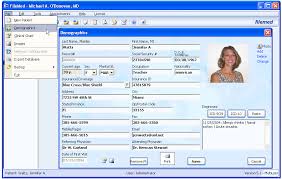 Most doctors copy and paste old, potentially out-of-date information into patients' electronic records, according to a new study looking at a shortcut that some experts fear could lead to miscommunication and medical errors.
"The electronic medical record was meant to make the process of documentation easier, but I think it's perpetuated copying," said lead author Dr. Daryl Thornton, assistant professor at Case Western Reserve University School of Medicine in Cleveland.
Electronic health records have been touted as having the potential to transform patient data from indecipherable scribbles into easy-to-read, searchable, standardized documents that could be shared among hospital staffers and a patient's various other health care providers.
In 2011, the U.S. government started giving financial incentives to hospitals for adopting electronic medical recordkeeping. Those incentives will expire in 2015.
Many electronic recordkeeping systems allow text to be copied and pasted from previous notes and other documents, a shortcut that could help time-crunched doctors but that could also cause mistakes to be passed along or medical records to become indecipherable, critics argue.
To see how much information in patient records came from copying, Thornton's team examined 2,068 electronic patient progress reports created by 62 residents and 11 attending physicians in the intensive care unit of a Cleveland hospital.
Progress notes are typically shared among doctors, nurses and other hospital staff and are meant to document the progression of a patient's tests and treatments.
Using plagiarism-detection software, the researchers analyzed five months' worth of progress notes for 135 patients.
They found that 82 percent of residents' notes and 74 percent of attending physicians' notes included 20 percent or more copied and pasted material from the patients' records.
In their report, published in Critical Care Medicine, Thornton and his colleagues did not examine what motivated physicians and residents to copy and paste, or whether the shortcut affected patient care.
In one case, though, Thornton told Reuters Health, a patient left the ICU and was readmitted a couple of days later. The patient's medical record included so much copied and pasted information, the new team of doctors wasn't able to decipher the original diagnosis. In the end, the new team called the physicians who originally diagnosed the patient.
Nothing about a patient – length of stay, gender, age, race or ethnicity, what brought them into the ICU or how severely ill they were – affected how often a physician copied information into the medical record.
Although residents' notes more often included copied material, attending physicians tended to copy more material between notes. They also tended to copy more of their own assessments from other notes.
Experts suggested that copying signifies a shift in how doctors use notes – away from being a means of communication among fellow healthcare providers and toward being a barrage of data to document billing.
"What tends to get missing is the narrative – what's the patient's story?" said Dr. Michael Barr, senior vice president in the Division of Medical Practice, Professionalism and Quality at the American College of Physicians. Barr was not involved in the current study.
In an unrelated editorial published this week in The Journal of Urology, Dr. Deborah Erickson points out that summarizing a patient's history at the start of notes is longstanding tradition, and it's just as easy to carry forward an error in handwritten or dictated notes as in electronic records.
Erickson worries more that repeatedly copying and pasting large chunks of text, possibly along with images and other records, will result in "a long, rambling note that does not make clear points." Moreover, for a physician's own thinking process, she writes, "It is much better for each day's note to synthesize and interpret the prior data, leaving out old information that is no longer relevant."
"If your communication isn't accurate, timely, complete and factual, then you really could be transmitting bad information forward that then creates this tumbling effect," said Ann Gaffey, president of Healthcare Risk and Safety Strategies, a consulting firm in Arlington, Virginia.
In her own study, Gaffey found copying and pasting to be common in over 50 physician practices that use five different electronic medical record programs.
Part of the problem is that doctors may not have the time to fully learn the new medical recording systems and may resort to short cuts, said Gaffey, who was not involved in the current research.
Ellen Balka, medical communications professor at Simon Fraser University in British Columbia, cautioned that copying might not lead to poor care for patients.
"In general, physicians want to provide good care," Balka, who was not involved in the current study, told Reuters Health. "If they're engaging in a practice like copying, there must be a reason for it."