Better staff training and family reminders to better monitor patients at risk of falling is a better method, study authors say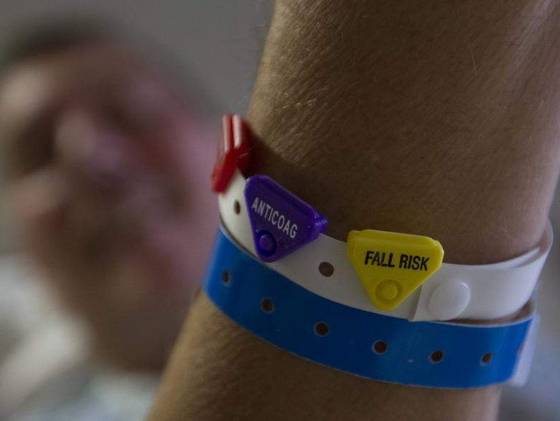 One of the most dangerous activities for hospital patients is the seemingly simple act of getting out of bed.
For the weak and woozy headed, it can lead to a hard fall, serious injuries and several thousands of dollars in added medical bills.
Now a new University of Florida study casts doubt on one of hospitals' primary fall-prevention measures, bed alarms, which were designed to alert medical staff when patients are getting up when they're not supposed to.
The study highlights a persistent problem for hospitals and the leading cause of injury and death for adults older than 65. U.S. emergency departments treat more than 2 million such injuries a year, according to the Centers for Disease Control and Prevention, at a cost of about $30 billion.
An 18-month review of nearly 28,000 patients, using 349 beds, at Tennessee Methodist Healthcare University Hospital found that the alarms did not translate into fewer falls.
This happened despite medical staff training in their use and hospital promotion of them, according to the study.
Too often, the devices sounded off improperly, leading to "alarm fatigue," said Dr. Ronald Shorr, the study's principal investigator and a professor of epidemiology at the University of Florida.
The takeaway: Alarms do little by themselves, he said. They can be ignored. A better approach, he said, is to train staff to closely monitor at-risk patients and remind patients and their families about the risks.
"There's no magic recipe to make these things go away," Shorr said. "There's not a technological fix."
Janet Fulton, director of inpatient oncology for Lee Memorial Hospital in Fort Myers, Fla., demonstrates with patient Dan Shortt, the correct way to walk with a patient who is at risk of falling.
Rather, hospitals need to employ a variety of methods such as close patient observation and awareness of those most at-risk, Shorr said.
The bed alarms used in the study cost about $400 apiece and are little more than plastic-covered pads placed under patients. Lee Memorial Health System in Fort Myers, Fla., used them until about a year ago, when it switched to alarms built into hospital bed mattresses.
Fall rankings
The Lee Memorial Health System ranks all its patients according to their fall risks. Those particularly in danger have signs posted outside their rooms, which may be those closest to nursing stations.
The new alarms imbedded in patient bed mattresses send out a piercing sound when patients move to get up. Janet Fulton, director of inpatient oncology at Lee, considers them much more reliable.
Their patient tags will also carry special, yellow tabs that identify them as fall risks. Patients are told to ask for help when they want to get up — advice they sometimes ignore — and family members are urged to not let them walk unattended.
Among them is Dan Shortt, 54, of LaBelle, a recent patient at Lee Memorial Hospital. Shortt, who has liver cancer, said fainting spells are common. So far, he's only suffered some nasty cuts and bruises.
His bed alarm was kept off, but Shortt said he's well aware of his tendency to fall.
"It's not about being weak," said Shortt from his hospital bed last week. "It just comes on real quick.
Studies show that falls are most likely to happen between 7 p.m. and 7 a.m. and are commonly the result of patients getting up to use the bathroom.
"A patient who is elderly, they may be forgetful, they may be confused," Fulton said. "And even if you give them instructions they may not remember that."
Tough to prevent
While hospital infections and medical errors get much of the attention when it comes to health center mishaps, falls remain one of the most frustratingly difficult to prevent.
According to the Centers for Medicare and Medicaid Services, the national average for falls and injuries is 0.527 per 1,000 patient discharges.
The Medicare data can vary wildly and does not account for different kinds of patients that each of these hospital systems are treating. In other words, higher rates may also mean the hospitals are seeing sicker patients, according to CMS.
Whatever the number, about 2 percent of all falls at hospitals result in longer stays, studies show. The average added treatment cost is about $4,000.
"This is one of the most common adverse events," Shorr said. "If the problem was easily solved we would have figured it out a long time ago."
— The cost of falling
Accidental falls are the leading cause of injury and death in adults over the age of 65, according to the Centers for Disease Control and Prevention. This is a problem even in U.S. hospitals, which employ various means of making sure at-risk patients stay safe. Still, falls happen, and they come with a cost.
2.3 million: Number of nonfatal fall injuries among older adults that were treated in ER.
662,000: Number of those ER patients were hospitalized.
25 percent: Percentage of hospital falls that result in injuries.
2 percent: Percentage of hospital falls that result in medical complications.
$4,000: Average dollar amount added to medical bills as a result of inpatient falls.
Sources: U.S. Centers for Disease Control and Prevention, the University of Florida Academic Health Center
Source:  http://www.usatoday.com/story/news/nation/2012/12/05/hospital-bed-alarms-not-effective/1748427/