Lansing Doctor Malpractice Attorney
Thousands of people living in the Lansing, MI, area and surrounding communities trust all types of doctors to offer safe, effective treatment every day. These patients rely on their physicians to accurately identify the causes of their conditions, treat their symptoms, and help them recover in the most efficient ways possible. Unfortunately, despite the extensive and rigorous schooling and training doctors must complete, doctor malpractice is unfortunately quite common throughout the United States.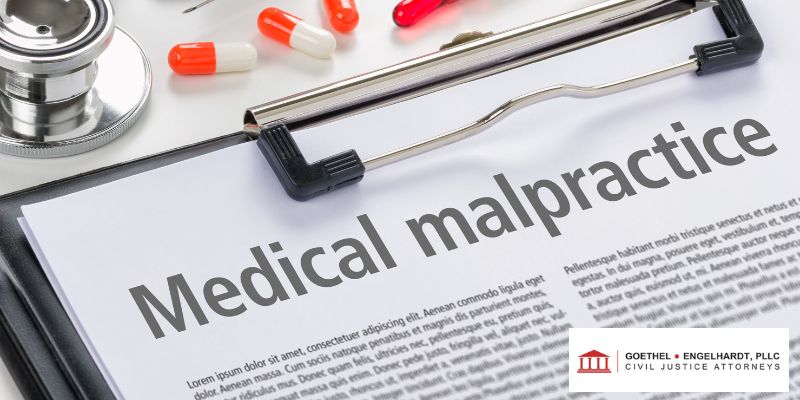 Experienced Lansing Legal Counsel for Doctor Malpractice Claims
When a doctor fails to meet their patient's standard of care or makes an egregiously negligent error that results in patient harm, the affected patient may have grounds to file a medical malpractice claim against them. This type of civil case is very different from most other civil claims, and plaintiffs must be prepared to face an arduous series of civil court proceedings. However, when you have Goethel Engelhardt, PLLC, representing your case, you have a much better chance of reaching a swift and positive outcome.
Benefits of Working With a Lansing Medical Malpractice Attorney
A medical malpractice claim is very different from any other type of personal injury claim. Additionally, these cases often involve catastrophic damages and long-term medical issues resulting from the negligence of the defendants involved. Therefore, if you believe you have grounds to file this type of claim, it's essential to have a Lansing doctor malpractice attorney with experience representing you.
State law requires the plaintiff of any doctor malpractice suit or any other medical malpractice claim to complete two important prerequisites before they may proceed with a civil suit against the party who injured them. First, they must provide the defendant with a Notice of Intent to File Suit at least 182 days prior to the actual filing of the claim. Second, they must obtain an affidavit of merit, a signed legal document from a medical professional who is similarly skilled to the defendant that carefully explains how the defendant breached their professional duty of care and violated the plaintiff's standard of care.
Resolving Your Doctor Malpractice Case
When you have experienced legal representation, meeting the legal prerequisites of your claim is much easier, and you are more likely to maximize your case award under state law. Goethel Engelhardt, PLLC, has helped many past clients in Lansing and surrounding areas with very complex medical malpractice suits; we are confident in our ability to provide comprehensive and effective legal representation in these challenging cases.
Under state law, you have the right to claim compensation for any and all economic losses the defendant caused with their malpractice. These are likely to include medical expenses for correcting their error, lost income if you were left unable to work because of the severity of your injury, and any other expenses you face due to the defendant's actions. Additionally, you have the right to limited pain and suffering compensation. As of 2022, the limit on pain and suffering compensation for medical malpractice plaintiffs is $497,000, which can be increased to $887,500 if the plaintiff suffered severe permanent harm.
FAQs About Lansing, MI Doctor Malpractice Law
Which Element of a Medical Malpractice Case Is Hardest to Prove?
Every medical malpractice claim in Michigan revolves around a medical professional's failure to meet the standard of care their patient requires. However, medicine is an inherently uncertain field, and countless medical conditions mimic the appearance and symptoms of others. An honest mistake does not qualify as grounds for a medical malpractice suit. One of the most challenging aspects of any medical malpractice case is proving that the doctor failed to meet their patient's standard of care or breached their duty of care to do no harm to their patient.
How Long Do You Have to File a Doctor Malpractice Claim in Michigan?
The state enforces a two-year limit for medical malpractice cases, meaning the plaintiff has two years from when their injury occurred to file their claim against the doctor who injured them. However, if the defendant took steps to conceal their actions, or if the harm done by the doctor in question was not immediately noticeable, the statute of limitations would "toll" or delay until the date of discovery.
How Much Is a Medical Malpractice Claim Worth in Lansing?
State law does not limit the economic damages a plaintiff can claim in a doctor malpractice claim, but there is a cap on non-economic damages or the amount of pain and suffering compensation the plaintiff may seek. Your Lansing doctor malpractice attorney can help you determine the full range of economic losses you can include in your claim and assist you in securing as much compensation for your pain and suffering as state law allows.
How Much Does It Cost to Hire a Lansing Doctor Malpractice Attorney?
Michigan law limits how much attorneys may charge their clients for representation in medical malpractice cases. Your legal team will take a contingency fee from your case award only if they are able to win your case. The contingency fee is a portion of the total compensation you obtain, and the percentage fluctuates based on the total value of the case.
Is It Worth Filing a Doctor Malpractice Claim in Lansing?
Do not make the mistake of assuming that it would cost you more to file your claim than you could obtain in compensation for your damages. The right attorney can help you uncover every avenue of compensation and maximize your case award, potentially revealing avenues of recovery you may have overlooked. Consulting a Lansing doctor malpractice attorney as quickly as possible after your injury is the best way to increase your chances of winning your case and securing appropriate compensation for your damages.
Goethel Engelhardt, PLLC, has the legal skill and professional experience necessary to handle the most challenging doctor malpractice claims. We have assisted many past clients through their legal proceedings; we are often able to reach far better results than they initially expected. If it's time to learn how an experienced Lansing doctor malpractice attorney can help you recover, contact us today to schedule a free consultation.