Lansing Gynecological Malpractice Attorney
Medical malpractice cases are some of the most challenging civil court cases anyone can face in Michigan, and the state enforces strict laws pertaining to plaintiffs' rights and responsibilities when they seek compensation for the malpractice that has harmed them. Gynecology is an essential area of medicine designed to ensure female reproductive health, and women throughout the state trust their gynecologists to provide reliable screenings and treatments for a wide range of conditions.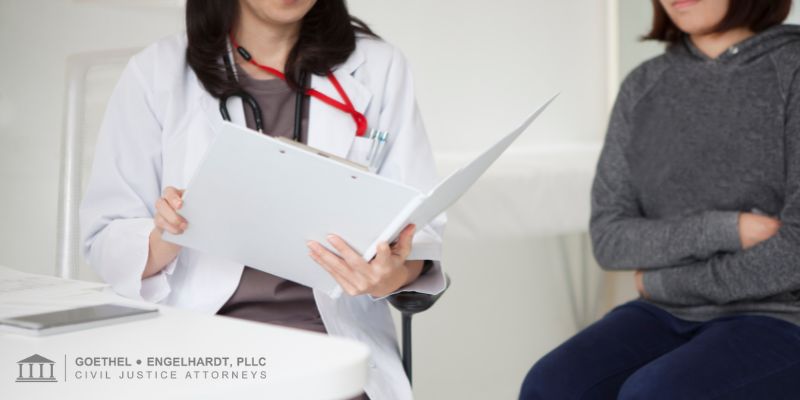 Compassionate Legal Counsel for Lansing Gynecology Malpractice Claims
Unfortunately, OBGYN negligence happens in many ways, and victims of this form of medical malpractice can face very challenging and emotionally devastating effects. If you or a family member recently suffered any type of harm while in a gynecologist's care, you need to speak with a Lansing gynecology malpractice attorney as quickly as possible to have the best chance of recovering as fully as state law allows. Goethel Engelhardt, PLLC, can provide the compassionate and responsive legal counsel you need in this difficult situation.
Building Your Gynecology Malpractice Case in Lansing
The team at Goethel Engelhardt, PLLC, has years of experience handling medical malpractice claims in Lansing, including many pertaining to negligent gynecological care. When these incidents arise, affected patients can easily face a wide range of immediate and long-term effects that often interfere with their ability to work and live independently. Gynecology malpractice cases often pertain to misdiagnosis or failure to diagnose. When an OBGYN fails to accurately assess their patient's symptoms, this could lead to the patient undergoing unnecessary, ineffective, and potentially harmful treatments while leaving their actual condition unaddressed. It is also possible for failure to diagnose to allow a condition to worsen to critical levels.
The basis of any medical malpractice claim in Lansing, Michigan is a failure to meet a patient's standard of care or the minimum level of treatment they should receive for their condition. The medical community uses the latest scientific research to inform standards of care for all known diagnoses, and they may only stray from a patient's standard of care under very specific conditions. Therefore, if you or a loved one was harmed because of a gynecologist's failure to meet the standard of care you required, it is essential to know your legal options for resolving the situation and securing the compensation you legally deserve.
What to Expect in a Gynecology Malpractice Case
Michigan law allows the plaintiff in a medical malpractice suit to seek repayment of any and all economic damages they incurred because of the defendant's negligence. For example, if the malpractice you experienced caused you to need corrective medical care and incur further medical expenses, you can add these losses as economic damages in your medical malpractice case. In addition, if you were left disabled in any way and cannot return to work, the defendant is responsible for these losses as well.
Gynecology malpractice injuries often entail very personal medical harm to the plaintiff, and state law does allow them to seek pain and suffering compensation from the defendant responsible for their injury. However, this aspect of recovery is limited to $497,000 in most cases, increased to $887,500 if the plaintiff suffered severe permanent harm resulting in disability. Therefore, when you hire Goethel Engelhardt, PLLC, as your legal counsel, our goal is to guide you through your case as efficiently as possible and secure as much compensation as state law allows for your injury.
FAQs About Lansing, MI Gynecology Malpractice Law
Can You Sue for Medical Malpractice in Michigan?
A medical malpractice case is a very specific form of personal injury claim, and every state upholds different statutes pertaining to this type of case. In Michigan, you have the right to pursue compensation for any damage caused by a healthcare professional if they failed to offer safe, effective treatment, breaching the standard of care you expected. If you are unsure whether you have grounds to file this type of claim, it's important to consult a reliable attorney as quickly as possible.
What Is the Standard of Care in a Malpractice Lawsuit?
The term "standard of care" defines the level of medical treatment an individual requires for a specific diagnosis. Every known medical condition has an accepted set of treatments that physicians and other medical professionals must respect at all times. Therefore, the foundation of any medical malpractice claim filed in the United States is a breach of the standard of care the patient should have received.
How Long Do You Have to File a Gynecology Malpractice Claim in Lansing?
Michigan enforces a two-year statute of limitations on medical malpractice claims. A plaintiff must file their suit within two years of the injury in question, or they lose their right to recover their damages from the defendant. The best way to ensure that you meet this timeframe is by connecting with an experienced Lansing gynecology malpractice attorney as quickly as possible after your injury.
How Much Does It Cost to Hire a Lansing Gynecology Malpractice Lawyer?
Michigan law compels attorneys to use a contingency fee billing arrangement for medical malpractice claims. This limits their legal fees to a percentage of their clients' case awards. When you hire Goethel Engelhardt, PLLC, to represent your gynecology malpractice case, we charge no upfront or ongoing fees for our representation, and you will only part with a percentage of your case award if we win your case. If we cannot secure compensation on your behalf, you owe us nothing, so there is no financial risk to you by having our team represent you.
How Long Will a Gynecology Malpractice Claim Take to Conclude?
If you have an experienced legal team representing you and the defendant's fault is clear, it may not take very long to reach a suitable settlement in your case. However, when a medical malpractice claim must be resolved through litigation, this will take much longer to resolve, with civil court proceedings sometimes taking several months to conclude.
Goethel Engelhardt, PLLC, is ready to help you understand the legal mechanisms in your case and reach the best possible outcome for your impending gynecology malpractice case. If it's time to learn how our team can empower your recovery and enhance your case award, contact us today and schedule your free consultation with a Lansing gynecology malpractice attorney you can trust.