Lansing Nurse Malpractice Attorney
Nurses in Lansing area hospitals and other medical centers have tremendously demanding jobs. While most do their best to perform their job duties safely and with integrity, some fail to meet the standards of care their patients' conditions require. Nurse malpractice occurs whenever a nurse injures a patient in this manner. Therefore, if you or a family member recently suffered any adverse medical event due to the negligence or misconduct of an attending nurse, you likely have grounds to file a malpractice claim.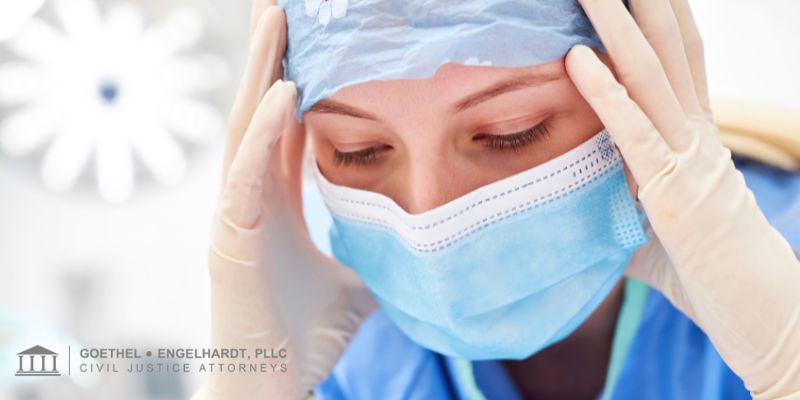 Providing Legal Counsel in Lansing, MI, for Nurse Malpractice Cases
While technically a form of personal injury claim, a medical malpractice case is more complex, and the plaintiff faces more demanding preliminary requirements they must fulfill before filing their case. Goethel Engelhardt, PLLC, can provide the measured legal guidance you need on your side to approach this type of difficult case with confidence, and we are ready to extend the full scope of our skill, resources, and experience to handling your nurse malpractice claim.
Common Examples of Nurse Malpractice
Whenever a patient is under the care and supervision of a nurse, the nurse is required to meet strict standards to limit the risk of injury to the patient. When a nurse fails to meet this professional responsibility through any intentional act, they not only face liability for the patient's resulting damages but professional consequences as well. A few of the most commonly cited examples of nurse malpractice that can lead to severe damages in Lansing include:
Failure to properly monitor patient vital signs. Most patients will require steady administration of medications and remain in bed for observation between rounds of treatment. Therefore, attending nurses must not only attach monitoring equipment carefully but also address any obvious signs of patient distress.
Failure to treat. Nurses who neglect patients in clear need of medical attention or simple living needs can face liability for resulting nurse malpractice claims. If you believe your injuries resulted from a nurse's failure to meet their most basic professional duties, it is imperative that you speak with a Lansing nurse malpractice attorney.
Medication errors. Nurses responsible for administering patient medications must do so carefully, observing appropriate dosages and timing of doses.
Mistakes during physical treatments, such as failure to place an IV correctly or failure to reposition bedridden patients correctly.
This is not an exhaustive list of all the ways that nurse malpractice might occur, and it's essential to have legal counsel you can trust on your side if you intend to file any type of nurse malpractice claim. Before you can file your civil suit against the defendant, you must obtain an affidavit of merit from an appropriately qualified medical professional who attests to the fact that your experience qualifies as an injury from malpractice. Additionally, you must meet the time limit for filing your claim, providing the defendant with appropriate prior notice.
Goethel Engelhardt, PLLC, can help you understand the process of filing a nurse malpractice claim in Lansing. We have years of professional experience handling all types of medical malpractice suits and have assisted many past clients with the most challenging cases. If you are ready to speak with a Lansing nurse malpractice attorney you can trust, we are ready to extend the full scope of our professional resources and experience to you in your proceedings.
FAQs About Lansing, MI Nurse Malpractice Law
What Is the Difference Between Negligence and Malpractice?
The terms "medical negligence" and "medical malpractice" are often used interchangeably, but there is a technical difference between the two. Negligence refers to a failure to exercise reasonable care, but malpractice refers to a failure to uphold the standard of care a patient requires. Typically, medical malpractice is proven by showing the defendant knew the potential consequences of an unacceptable action but chose to take action anyway.
How Much Is My Nurse Malpractice Personal Injury Claim Worth in Lansing?
Michigan state law allows the plaintiff in any medical malpractice case to seek full compensation for all of the economic losses they suffered due to the defendant's actions, along with compensation for their pain and suffering. However, state law caps pain and suffering damages in medical malpractice cases, and the limit increases each year to account for inflation.
How Long Will It Take to Resolve My Nurse Medical Malpractice Claim in Lansing?
If the defendant in your suit agrees to a settlement, this may only take a few weeks to conclude. Your Lansing nurse malpractice attorney will guide you through the settlement negotiation process until you reach an acceptable settlement offer from the defendant. However, if your case needs to be resolved in court, litigation will take much longer to complete, potentially several months to more than one year, and the final outcome rests in the hands of the judge.
How Much Does It Cost to Hire a Lansing Nurse Malpractice Attorney?
State law limits the amount a medical malpractice attorney can charge their client. The team at Goethel Engelhardt, PLLC, accepts these cases on a contingency fee basis, meaning a client only pays a legal fee once we win compensation on their behalf, and their fee is a percentage of the final case award. This makes legal counsel accessible when you need it most without fear of losing most of your case award to legal fees.
Will Hiring a Lansing Nurse Malpractice Attorney Allow Me to Obtain a Larger Settlement?
When you choose Goethel Engelhardt, PLLC, to represent your nurse malpractice claim, our goal is to secure as much compensation as possible in the shortest time possible. We will assist our clients in gathering the evidence and testimony necessary for firmly establishing liability for their damages and preparing them for the difficult proceedings their case entails.
Goethel Engelhardt, PLLC, has many years of experience handling the most difficult medical malpractice cases on behalf of Lansing area clients. We develop uniquely tailored legal solutions for each client our firm represents and help each client understand the unique legal mechanisms in play in their case. If you are ready to explore your options for legal recourse after being injured by hospital malpractice, contact our team today and schedule a free consultation with a Lansing nurse malpractice attorney.