Lansing Emergency Room Error Attorney
Thousands of Michigan residents go to their local emergency rooms each year seeking treatment for acute traumatic injuries and severe illnesses. The emergency room is one of the most demanding areas of any medical treatment facility, and the doctors, nurses, and support staff working in emergency rooms have strict professional obligations they must fulfill. Unfortunately, thousands of emergency room injuries are reported throughout the United States each year, sometimes involving catastrophic damages.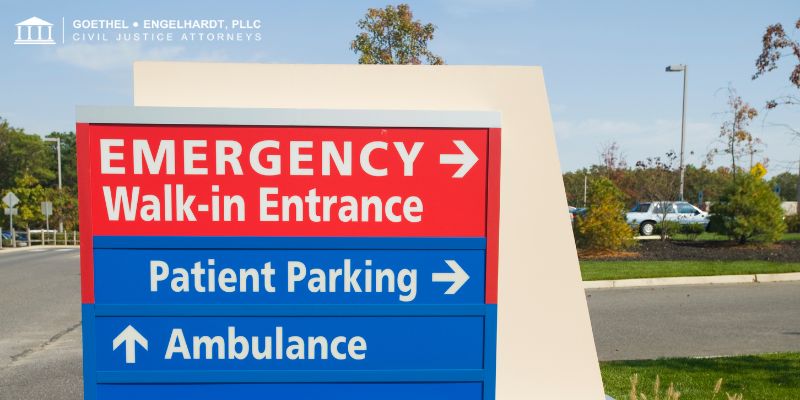 Legal Representation for Lansing Emergency Room Error Cases
Goethel Engelhardt, PLLC, is a team of experienced medical malpractice attorneys in Lansing with many successful cases behind our firm. We take time to learn each client's unique story and provide ongoing support and guidance through all stages of their cases. As a result, we are often able to uncover opportunities for more expansive recoveries than they initially expect, and we have the resources and experience necessary to streamline their cases substantially.
Understanding Emergency Room Errors and Medical Malpractice
A medical malpractice case in Lansing, MI may be a form of civil suit, but there are very specific statutes that apply to these cases that all claimants must recognize and understand. First, the claimant cannot proceed directly with filing a civil suit against the medical professional responsible for their emergency room error. Instead, state law requires them to obtain a signed statement from a medical professional who can attest to the severity of their condition and explain how their condition is the result of malpractice or professional negligence. Second, the claimant must be prepared to file a Notice of Intent to File Claim against the defendant at least 182 days in advance of the actual filing of their claim.
Beyond these procedural requirements, medical malpractice suits are challenging in many other ways. When it comes to emergency room error claims, liability for a plaintiff's damages could fall to a specific individual as well as the hospital that employed them. Vicarious liability applies when an employer creates the conditions necessary for their employee to cause the harm in question. Your emergency room error suit may target a specific doctor or nurse who harmed you, as well as their employer.
Emergency room errors that can lead to medical malpractice claims include failure to provide timely care to patients, administering inappropriate treatments that result in patient harm, misdiagnosis, and failure to diagnose. No matter how you were injured in the emergency room, it's vital to consult an experienced Lansing emergency room error attorney as quickly as possible to have the best chance of maximizing your recovery. Goethel Engelhardt, PLLC, can provide the measured legal support you need to approach your proceedings with confidence and peace of mind.
FAQs About Lansing, MI Emergency Room Error Law
How Do I File an Emergency Room Error Claim?
If you or a family member suffered harm from negligent emergency room treatment, it's vital to know how to file a medical malpractice claim. It's possible that your claim will target a specific healthcare professional or employer. Therefore, you must obtain an affidavit of merit from a medical professional stating how your injury was the result of malpractice, and you must also provide adequate notice to the defendant before you proceed with your claim.
How Much Is an Emergency Room Error Claim Worth?
Many variables influence the total potential value of an emergency room error case. State law says the plaintiff can seek repayment of all the economic losses they suffered, and they may also obtain limited pain and suffering compensation. Other factors may also influence the plaintiff's case award, such as the presence of fraud or malicious intent on the part of the defendant. For an accurate estimate of your case's total potential value, you must consult an experienced Lansing emergency room error attorney as quickly as possible to start working on your case.
How Long Do You Have to File an Emergency Room Negligence Claim?
Michigan enforces a two-year statute of limitations on medical malpractice cases. You must file your case within this two-year time limit or lose your right to claim compensation. However, you must take the requirement to file a Notice of Claim into account. This notice to the defendant must be filed at least 182 days prior to the date you file your suit. You should consult a Lansing emergency room error attorney as quickly as possible so you can meet all applicable deadlines for filing your claim.
How Much Will It Cost to Hire a Lansing Emergency Room Error Attorney?
Michigan law limits the amount an attorney can charge their client for representation in a medical malpractice claim. These cases operate on a contingency fee basis, meaning the plaintiff only parts with a percentage of their case award, but only if their attorney wins their case. When you have Goethel Engelhardt, PLLC, handle your claim, we will seek maximum compensation for your damages and streamline your case as much as possible, and there are no hidden surprises when it comes to the cost of hiring our firm.
Is It Worth Filing an Emergency Room Error Suit in Lansing?
Many people with grounds to file all types of medical malpractice claims in Michigan make the unfortunate mistake of assuming their cases would cost more than they would yield in compensation. Goethel Engelhardt, PLLC, has years of experience handling medical malpractice cases and strives for maximum client recovery in every case we accept. In addition, since we only take a fee if we win, and your fee is a portion of the case award, there is no risk to you by hiring our team to represent you in your emergency room error case.
Emergency rooms may be chaotic and demanding for doctors, nurses, and other hospital staff, but this does not excuse them when they cause harm to their patients through negligence or intentional misconduct. Goethel Engelhardt, PLLC, can provide the compassionate legal counsel you need to make your way through your case with confidence. Contact us today and schedule your consultation with a Lansing emergency room error attorney you can trust with your recovery.