Lansing Hospital Malpractice Attorney
Thousands of people living in the Lansing area and surrounding communities of Michigan trust their health care providers to deliver safe and effective medical care for all illnesses and injuries. Local hospitals and their staff have a moral and professional responsibility to do no harm to their patients and uphold the standard of care each patient requires for their diagnosis. Unfortunately, not all health care establishments fulfill this obligation, and many people suffer tremendous harm as a result of hospital negligence.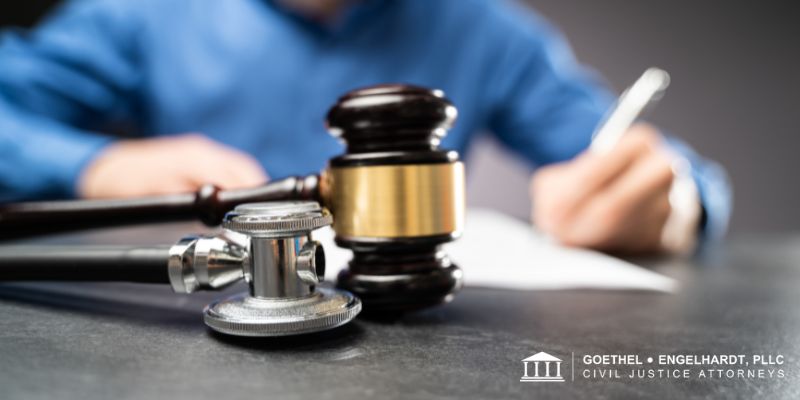 Experienced Legal Counsel for Lansing Hospital Malpractice Claims
If you or a family member recently sustained injuries or your condition worsened while admitted to a hospital, the situation may have resulted from hospital negligence. While similar to a standard medical malpractice claim in many ways, hospital negligence cases require careful attention to detail as these claims often involve multiple defendants. The subject of your impending suit may not only be a specific hospital staff member but also their employer. You need legal counsel you can trust to navigate a difficult case like this.
Goethel Engelhardt, PLLC, has a team of experienced Lansing hospital malpractice attorneys who have helped many past clients through some of the most challenging medical malpractice cases. We take time to listen to each client's story to ensure we provide carefully tailored client-focused legal counsel. Our firm has the professional resources and skills necessary to handle the most demanding hospital malpractice claims, so you can approach your recovery efforts with confidence when you choose our firm to represent you.
Understanding Hospital Malpractice Cases in Lansing
A hospital has a professional duty to ensure that every staff member is fully trained and capable of handling the unique demands of their job. They must also uphold the highest standards when it comes to cleanliness and patient safety. It's possible for hospital negligence to occur through the actions of a specific staff member, but the hospital is likely to bear fault as well if the organization fails to manage the staff member correctly in any way.
Some hospital malpractice cases result from poor training, failure to perform appropriate background checks on hospital employees before hiring, and failure to enforce appropriate cleaning and patient care standards. It is also possible for a hospital malpractice claim to pertain to the actions of a specific health care provider, such as a negligent doctor employed by the hospital. Ultimately, determining liability in these cases can be challenging, which is a primary reason that it's vital to have legal counsel you can trust on your side before filing this type of case.
When you choose Goethel Engelhardt, PLLC, to represent your hospital malpractice case, we will carefully evaluate the details of the situation that resulted in your injury or illness. Our firm can consult with various medical experts who can provide specific insights into the unique details of your case. Once you are ready to file your claim and have a firm grasp of your claimable damages, we will assist you in completing the preliminary requirements of your case, such as obtaining an affidavit of merit from an appropriately experienced medical professional and filing your Notice of Intent to File Suit to the defendant within the appropriate timeframe.
FAQs About Lansing, MI Hospital Malpractice Law
What Are the Four Things That Must Be Proven to Win a Medical Malpractice Suit?
Winning a medical malpractice case requires meeting strict legal requirements. The four elements you must prove include:
An official doctor-patient relationship between you and the defendant.
A breach of duty by the defendant or failure to meet your standard of care.
Actual harm resulting from their failure to meet the standard of care.
Causation between the breach of duty of care and the plaintiff's claimed damages.
Your Lansing hospital malpractice attorney will assist you in gathering the evidence needed to prove these four elements of malpractice.
What Is the Most Common Form of Medical Malpractice?
The most commonly reported form of medical malpractice in the United States is misdiagnosis. Failure to diagnose a patient or diagnose them accurately can lead to a host of damages. They may undergo ineffective and/or inappropriate treatments, and their actual condition will be left unaddressed. An experienced attorney can help you prove that your attending physician failed to diagnose you correctly or made another error in their diagnostic process.
How Much Is My Hospital Malpractice Claim Worth?
The potential value of your final case award hinges on the severity of your condition following your experience at the hospital in question. State law permits you to seek full repayment of all the financial losses the defendant inflicted with their actions, as well as compensation for pain and suffering. However, state law limits compensation for pain and suffering in medical malpractice cases.
Is the Hospital Responsible for the Actions of Their Employee?
Most hospital negligence cases pertain to hospitals that bear fault for the actions of their employees. For example, if your claim resulted from a hospital staff member's negligence, your case may cite not only the staff member as a defendant but also their employer. Vicarious liability plays a role in any personal injury case in which one party bears liability for the actions of another party.
Is It Worth Hiring a Lansing, Michigan Hospital Malpractice Attorney?
Legal counsel you can trust is an invaluable asset when you face a complex hospital negligence claim in Lansing. Even if you think you know exactly who caused your injury and the scope of your damages, the actual legal process you face is likely to be far more challenging than you initially expected. Hiring a Lansing hospital malpractice attorney can pay off tremendously when it comes to the quality of your final case award.
Goethel Engelhardt, PLLC, can provide the client-focused and compassionate legal representation you need to approach your case with confidence. Our firm has assisted many Lansing area clients with a wide range of medical malpractice cases, and we know the stress and uncertainty that any victim is likely to face in this challenging situation. If you are ready to explore your options for legal recourse after suffering an injury from a hospital employee's misconduct or negligence, contact us today and schedule your free consultation with a Lansing hospital malpractice attorney.