Lansing Surgical Errors Attorney
Thousands of people undergo all manner of surgical procedures in Michigan each year, and most come out of these experiences safely. However, medicine is inherently risky and uncertain, even when a patient's diagnosis seems perfectly clear. While honest mistakes can and do happen in surgical operations, there is a major difference between an honest and understandable mistake and negligence.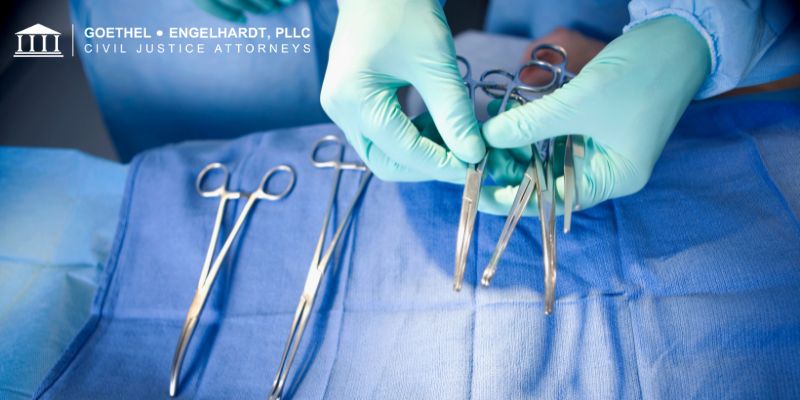 Experienced Legal Representation for Lansing, MI, Surgical Error Claims
When a surgeon harms a patient due to negligent application of surgical technique and/or gross negligence, the affected patient could face life-changing effects. Depending on the nature of the procedure they were supposed to undergo and the severity of the harm done to them by the negligent surgeon, it's possible for their experience to lead to permanent medical complications and/or disabilities.
If you believe you or a loved one is the victim of medical malpractice, a Lansing surgical error attorney is the best resource you can consult. Goethel Engelhardt, PLLC, can provide the individualized legal counsel you need in this difficult situation, helping you make sense of your circumstances and the options for legal recourse available to you. The sooner you secure trustworthy legal representation, the sooner you can begin building your case and working toward recovery.
Understanding Michigan Medical Malpractice Laws
Medical malpractice is a legal term used to describe a failure to meet the standard of care a patient requires for their medical condition. The medical community develops these standards by using the latest medical research and scientific data, and medical professionals are expected to adhere to these standards at all times.
Every surgical procedure entails a degree of risk, and surgeons are required to adhere to the medical community's accepted standards when performing these procedures. Honest mistakes may occur, but when they do, surgeons must take responsibility, fix the error, and explain the situation to the patient. The patient should not be held responsible for additional medical expenses incurred because of this type of mistake.
A surgical error can amount to medical malpractice in Michigan if the surgeon does not adhere to appropriate standards of care in performing the procedure. Additionally, if a surgeon attempts to perform a procedure without adequate certification or experience, or while under the influence, they may face not only liability for malpractice but also criminal penalties and/or loss of their medical license.
Recovering From a Surgical Error
Michigan law allows the plaintiff of a medical malpractice claim to seek full repayment of all their economic losses caused by the defendant's actions. This includes the cost of any corrective treatment they require as well as ongoing medical expenses for managing serious injuries. In addition, if they miss work or are unable to work, they can also claim compensation for lost income and lost earning potential. Finally, state law also allows the plaintiff to seek compensation for pain and suffering, but this aspect of their recovery is limited by state law.
If you want the best chance of recovering as fully as the law allows, it is crucial that you have legal counsel you can trust to guide you through your claim proceedings. Goethel Engelhardt, PLLC, has the professional resources and experience necessary to address the most complex details of your claim. We will help you firmly establish liability for the surgical error that injured you and hold the responsible party fully accountable for the damages you suffered as a result of their actions.
FAQs About Lansing, MI Surgical Error Law
What Penalties Does a Surgeon Face for Malpractice?
If a surgeon commits malpractice of any kind, they will face not only liability for the damages but also professional consequences. Depending on the scope and severity of their violation, their penalty may even include loss of their license to practice, fines, and more. For example, if a surgeon injured a patient because they attempted a procedure while under the influence of drugs or alcohol, this could easily result in the loss of their medical license.
What Are the Legal Prerequisites of a Surgical Malpractice Claim?
State law requires the plaintiff of a medical malpractice case to complete two steps before filing their claim against the defendant. First, they must obtain an affidavit of merit from a similarly skilled medical professional who can attest to the severity of the defendant's failure to meet the victim's standard of care. Second, they must provide Notice at least 182 days prior to the filing of their claim. The defendant has 154 days in which to respond.
How Much Does It Cost to Hire a Lansing Surgical Error Attorney?
Michigan law limits how much an attorney can charge a client for representation in a medical malpractice case. Goethel Engelhardt, PLLC, uses the contingency fee system, taking a percentage of the client's final compensation at the conclusion of their case. However, this fee is only collected if we win. If, for any reason, we are unable to secure compensation for your losses, you pay nothing.
How Long Will It Take to Resolve a Surgical Error Claim?
The time required to complete a surgical error suit in Lansing hinges on the complexity of the case and the willingness of the defendant to accept responsibility for the plaintiff's damages. If you are able to settle your case, this may only take a few weeks, whereas litigation can take several months or even longer than one year to complete.
Is It Worth Hiring a Lansing Surgical Error Attorney?
Your investment in legal counsel you can trust will pay off tremendously when it comes to the quality of your final recovery and your experience with your case proceedings. Hiring the right attorney means you can recover with peace of mind knowing your legal affairs are in trustworthy hands. Additionally, your attorney is likely able to identify avenues of recovery you didn't realize were available to you, enhancing your final case award by a potentially sizeable margin.
Goethel Engelhardt, PLLC, has the experience and resources necessary to handle the toughest surgical error claims. Our firm has a strong professional record of successful medical malpractice claims due to our commitment to providing completely client-focused legal counsel in every case we accept. If you believe you have grounds to file a surgical error claim, contact us today to schedule your free consultation with a Lansing surgical error attorney.