Flint Anesthesia Errors Attorney
Anesthesia is an essential component of many modern medical procedures, and there are many types of anesthesia used in modern medicine, from topical local anesthetics that numb a small area of the body to general anesthesia that renders a patient completely unconscious. Whenever medical professionals must use anesthesia to treat a patient, they must use the utmost care to ensure they cause no harm.
Experienced Legal Representation for Anesthesia Error Claims in Flint, MI
Anesthesia errors can and do occur. If you or someone in your family suffered harm from anesthesia negligence, a medical malpractice attorney can help determine your most viable options for legal recourse. The attorneys at Goethel Engelhardt, PLLC, have years of experience helping clients resolve their medical malpractice claims in Flint, and around Michigan. We can leverage this experience on your behalf in an anesthesia error claim.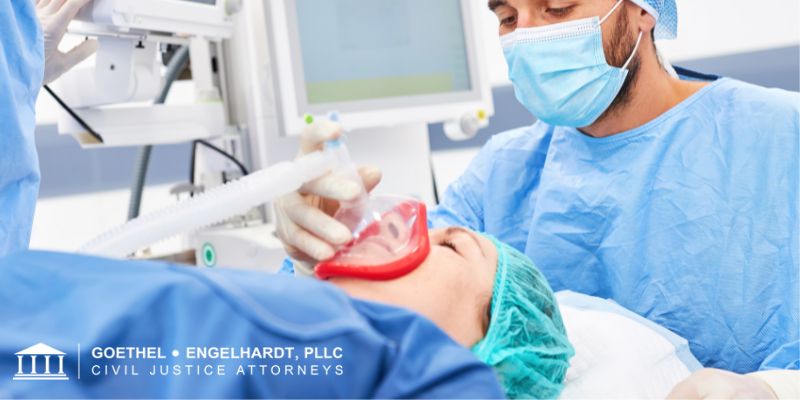 Understanding an Anesthesia Error Claim in Flint
Medical malpractice is a specific area of personal injury law involving claims for damages against medical professionals who negligently harm their patients. Whenever an anesthesiologist or other medical professional fails to meet the standard of care and harms the patient, this can form the basis of a medical malpractice suit.
A medical malpractice claim falls within the purview of personal injury law, but there are special and specific rules which a plaintiff must meet. An experienced medical malpractice attorney can be a crucial ally as you seek to recover for your damages.
FAQs About Flint,MI Anesthesia Mistake Law
Why Do I Need to Hire an Anesthesia Mistakes Lawyer?
Hiring legal counsel you can trust in Flint, MI can make every aspect of your anesthesia error claim easier to manage, and you will be more likely to reach a positive conclusion to your case. Your attorney can handle the investigation, the procedural obligations you must meet, and provide ongoing support during the case's proceedings.
How Much Does a Flint Anesthesia Error Attorney Cost?
It's natural to worry about legal fees when you are already struggling with expensive damages from a medical injury. Most medical malpractice attorneys follow the contingency fee billing policy. With this billing arrangement, a client only pays a fee after their attorney wins their case, and the fee is a portion of their case award. There are no upfront or ongoing fees with a contingency fee agreement and no fees at all if the attorney is unsuccessful in securing compensation for the client.
Goethel Engelhardt, PLLC, can help you approach your anesthesia error case with greater confidence and peace of mind. Throughout the years, we have successfully guided many clients to positive outcomes in their medical malpractice cases. Contact us today to set up a free consultation with a medical malpractice attorney and start working toward your recovery.