Flint Surgical Error Attorney
Every year, thousands of Michigan residents in Flint and surrounding communities undergo surgical procedures. Some are minimally invasive with a relatively small risk of adverse effects, while others are far more complex and inherently dangerous for many reasons. Most patients requiring surgery in Flint are able to trust their surgeons and the other medical professionals who treat them, but some are unfortunately harmed by the very people they have trusted with their surgical procedures.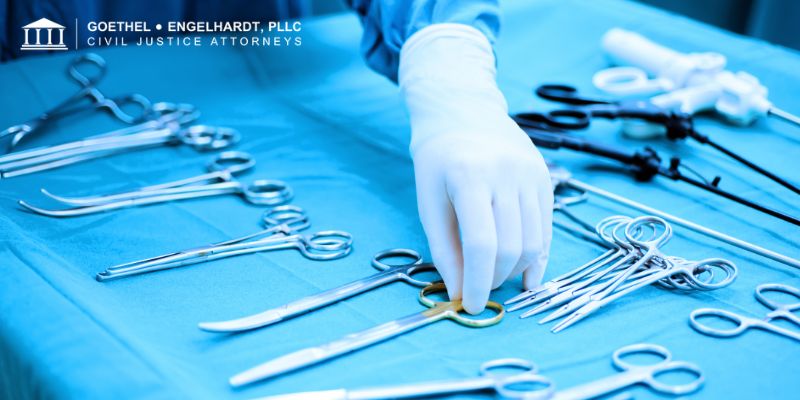 Helping Surgical Error Victims Recover in Flint, MI
While most surgical procedures entail some degree of risk, there is a major difference between a surgical injury caused by an honest mistake in a complex procedure and a surgical error resulting from professional negligence. If you recently suffered harm in a surgical procedure due to the surgeon's failure to meet your standard of care, this can form the basis of a medical malpractice claim. If you intend to pursue a medical malpractice case in Flint, it is crucial to hire legal counsel you can trust to guide you through your proceedings and help recover the compensation you legally deserve.
Building a Medical Malpractice Case for a Surgical Error in Flint
To proceed with any medical malpractice case, the plaintiff must prove that the defendant failed to meet the appropriate standard of care they required for the procedure in question. The appropriate standard of care is the minimum level of acceptable treatment for a specific illness or injury. The appropriate standard of care can also inform how a surgeon is expected to approach a particular procedure for a patient.
A surgical error claim could entail physical injury from misuse of surgical tools, misapplication of anesthetic, failure to address a patient's known medical history, failure to monitor patient vital signs during a procedure, performing the wrong procedure on the wrong body part or the wrong patient, or leaving surgical tools inside of the patient's body. If you believe a recent injury resulted from malpractice, it is vital to consult a Flint surgical error attorney as soon as possible.
Your attorney can consult an appropriately credentialed medical professional to support your claim. A prerequisite for filing any medical malpractice suit in Flint is an affidavit of merit, which must be completed by a medical professional who holds the same board certifications as the defendant. For example, if you intend to file your suit against an orthopedic surgeon, you must find another orthopedic surgeon with equivalent credentials to supply your affidavit of merit.
A successful medical malpractice claim could potentially yield more compensation than you might expect. Not only will the defendant be liable for the cost of all medical care you need to correct the harm they have done, but they will also face liability for the income you are unable to earn after the injury as well as your pain and suffering. When you choose Goethel Engelhardt, PLLC, to represent your surgical error claim in Flint, we will do everything we can to help secure as much compensation as the law allows in the shortest possible timeframe.
FAQs About Flint, MI Surgical Errors Laws
How Do You File a Medical Malpractice Claim?
Filing a medical malpractice claim in the state requires meeting unique procedural requirements that do not apply to most other personal injury cases. You must first obtain an affidavit of merit from an appropriately qualified medical professional who can explain how the defendant violated your standard of care, and you must submit this to the defendant with a Notice of Intent to File Suit in advance of the actual filing of your claim. A Flint surgical error attorney is an invaluable asset when it comes to meeting the procedural requirements of your case.
How Much Money Can I Recover for a Surgical Error Claim?
Michigan law allows the plaintiff in a medical malpractice suit to claim full repayment of all the economic losses they suffered from the incident in question, but they are limited when it comes to pain and suffering compensation. The total value of a medical malpractice claim hinges on multiple factors, such as the severity of the injury and whether the victim faces long-term or permanent damage. A seasoned attorney can estimate your case's total value.
How Do You Prove a Surgical Error Counts as Medical Malpractice in Flint?
Every surgical procedure entails some level of risk. However, there is a distinct difference between an understandable mistake made in good faith during a high-risk procedure and an injury resulting from professional negligence. To succeed with any surgical error claim or other medical malpractice claim, you must prove the defendant failed to meet the appropriate standard of care that you required in the situation in question.
How Long Does It Take to Resolve a Medical Malpractice Claim in Flint?
Every medical malpractice case is unique, and surgical error claims are particularly complex. The time your case could take to reach a conclusion depends largely on whether the defendant accepts liability for your injury or if they contest the claim. When a medical malpractice claim can proceed through settlement, this may only take a few weeks to complete. However, if litigation is necessary, this is a much longer and more complex process that may take several months to resolve.
Why Do I Need a Flint Surgical Error Attorney to Handle My Case?
Even if you think your case is straightforward and you have a firm understanding of your claimable damages, any medical malpractice suit can impose unpredictable challenges that you will not be able to resolve on your own. Additionally, these cases require meeting strict procedural requirements; attempting to manage your case proceedings and your medical recovery simultaneously would be very difficult and unlikely to yield a positive result. Hiring an attorney to represent you increases your chance of success with the claim, and you will be more likely to maximize your final case award with their help.
The team at Goethel Engelhardt, PLLC, is ready to provide the compassionate and comprehensive legal counsel you need on your side to approach your surgical error claim with confidence. Our firm has assisted many clients with all types of medical malpractice claims, and we are prepared to leverage this experience on your behalf. Contact us right away and set up a free consult with a Flint surgical error attorney you can trust with your recovery.