Flint Medical Malpractice Attorney
Thousands of people visit emergency rooms in Flint and throughout Michigan every day for all types of medical emergencies. The majority of these patients receive the timely and effective medical care that they need for their illnesses and injuries, but some are not so fortunate. Emergency room errors occur in Flint for many reasons, sometimes leaving patients in worse condition than when they entered the emergency room.
Trustworthy Legal Counsel for Emergency Room Claims in Flint, MI
If your recent emergency room injury was the result of a healthcare professional's negligence, this could form the basis of a malpractice suit. Goethel Engelhardt, PLLC, has the professional experience necessary to handle all types of complex medical malpractice cases for clients in the Flint area and surrounding communities. We know the legal challenges you might face as you seek accountability for your damages, and we know how to maximize your recovery to the fullest extent possible under state law. We can help you navigate the aftermath of this situation with confidence.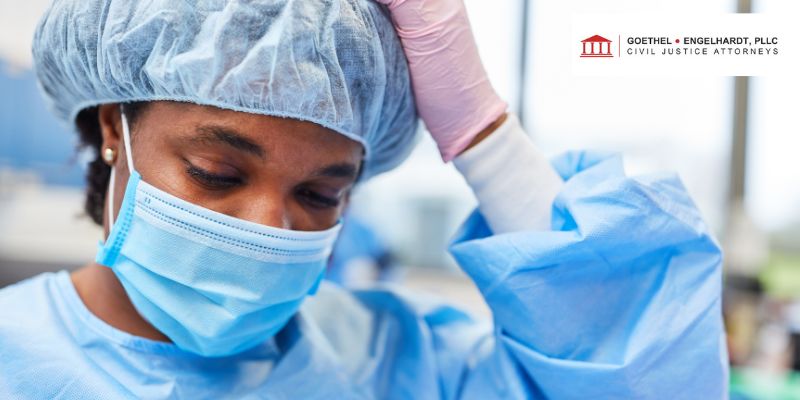 How to Build Your Medical Malpractice Suit
The foundation of every medical malpractice claim is the standard of care, which is the measure of care and treatment that a patient should receive for their condition. The medical community must follow the standards of care, which is often based on the latest available clinical data and medical research. Examples of the more common emergency room errors that can lead to medical malpractice claims in Michigan include failure to provide timely care, failure to deliver appropriate care, and diagnostic errors.
Whatever type of emergency room error you experience, it is crucial to consult an experienced Flint medical malpractice attorney as soon as possible to start building your case. There are strict preliminary requirements you must fulfill to proceed with your case. Goethel Engelhardt, PLLC, is ready to provide the comprehensive legal counsel you need to reach a swift and satisfying outcome to your impending emergency room error claim in Flint.
FAQs About Flint, MI Emergency Rooms Error Law
Who Can Sue for Medical Malpractice?
Each medical malpractice claim is unique so it's critically important to discuss your case with a Michigan medical malpractice attorney as soon as possible to determine whether you can file a medical malpractice claim.
How Do I Prove Medical Malpractice?
Medical malpractice occurs when a healthcare professional fails to provide the appropriate standard of care to a patient and causes damages. Your Flint area medical malpractice attorney can help gather the evidence and supporting testimony you will need to file your case.
How Much Does It Cost to Hire a Medical Malpractice Attorney?
If you intend to pursue a medical malpractice suit for your recent emergency room error, it i's natural to worry about how much your legal fees may be. However, this is no cause for concern if you choose Goethel Engelhardt, PLLC, to represent your case. We accept medical malpractice claims on contingency, so our client only pays a fee if and when we win their case.
If you are struggling in the aftermath of an emergency room error that you believe occurred because of professional negligence of any kind, Goethel Engelhardt, PLLC, may be of help. Contact us today to set up a free consult with a medical malpractice attorney you can trust with your case.