Flint Nurse Malpractice Attorney
Every day, thousands of people in Flint and across Michigan trust healthcare professionals like nurses to provide safe, effective medical treatment for their illnesses and injuries. Nurses are especially important parts of the medical establishment, monitoring patients between treatment sessions, tracking vital signs, administering medications, and much more. While most nurses in Flint uphold their professional responsibilities and meet the standards of care for their patients at all times, some do not and cause tremendous harm with their professional negligence.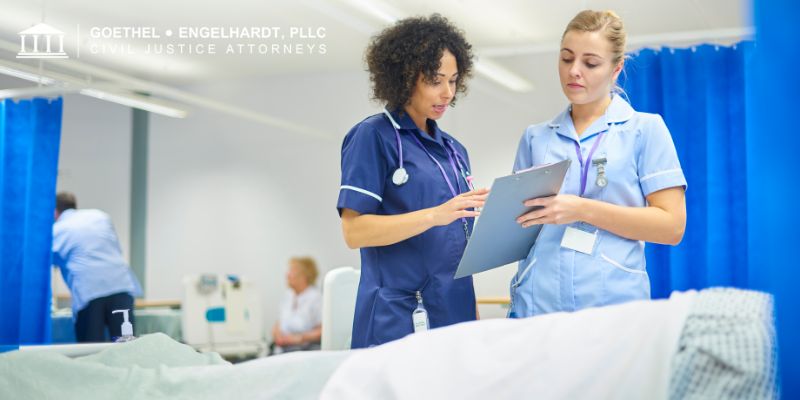 Experienced Legal Counsel for Nurse Malpractice Claims in Flint, MI
If you recently suffered injuries due to the negligence of a nurse in any Flint medical treatment center, you need legal counsel you can trust to help ensure accountability and to secure compensation for the losses you suffered. The team at Goethel Engelhardt, PLLC, has years of professional experience handling medical malpractice claims in Flint, including those pertaining to nurse malpractice. You can rely on our team to evaluate your case and identify your most viable options for legal recourse.
Filing Your Nurse Malpractice Claim in Flint
Nurse malpractice occurs whenever a nurse fails to uphold their professional responsibilities and ensure the safe application of medical treatment to a patient. Every patient has a standard of care that refers to the baseline level of treatment they need for their diagnosis. Nurses fulfill many roles when it comes to patient care, and they are required to adhere to the appropriate standard of care for every patient at all times.
Nurse malpractice may entail failure to monitor patient vital signs, misapplication of medical devices, administering incorrect doses of medication, and other violations of the appropriate standard of care. If you believe a recent injury occurred due to nursing malpractice, pursuing legal recourse will be different from the process of filing any standard personal injury claim. It's essential to have trustworthy legal counsel on your side for this challenging type of civil case.
To file a medical malpractice claim in the state, the plaintiff must obtain an affidavit of merit from a medical professional with equivalent or greater credentials than the defendant. This affidavit must clearly explain how the defendant violated the appropriate standard of care the patient required, and the plaintiff must submit this affidavit with a Notice of Intent to File Suit at least 182 days before the actual filing of the claim. It's possible to settle a medical malpractice claim, but if the defendant contests liability, the case may need to be resolved through litigation.
A successful medical malpractice claim for nursing malpractice can potentially yield compensation for the economic losses the plaintiff suffered, such as the cost of corrective medical care they required, lost income, and lost future earning potential. They may also recover pain and suffering compensation, but Michigan law restricts how much they can receive. When you choose Goethel Engelhardt, PLLC, to represent your nurse malpractice claim, we will do everything we can to streamline your proceedings and maximize the compensation you obtain for your injury.
FAQs About Flint, MI Nurse Malpractice Laws
As a Patient, How Do I Choose a Good Medical Malpractice Attorney in Flint?
Finding the right attorney to handle your case is essential if you want to reach the optimal outcome of your case. Take time to research your local options for legal representation and look at each potential attorney's professional record. You should not only evaluate a candidate's overall experience with medical malpractice claims but also their record of cases that are like yours.
Why Should I Hire a Flint Nurse Malpractice Attorney?
Although it is technically possible to pursue your claim on your own, medical malpractice cases are inherently far more complex than standard personal injury claims and require meeting very strict procedural requirements. You are not only more likely to succeed with a medical malpractice claim with an attorney's help but also more likely to maximize the results of your recovery efforts and secure as much compensation as the law allows.
How Do I Prove Nurse Malpractice in Flint?
Success with any medical malpractice case requires accurate identification of the party responsible for the malpractice in question. Once you have determined the target of your claim, you must then prove that they violated the appropriate standard of care you required for your condition. Your Flint nurse malpractice attorney can assist you in gathering whatever evidence and witness testimony you might need to firmly establish liability for the harm you suffered.
How Much Is My Nurse Malpractice Claim Worth in Flint?
State law restricts compensation for medical malpractice claims using rules that do not apply to most other personal injury claims. Generally, the victim of any type of medical malpractice can, if they succeed with their claim, secure full repayment of all the economic losses they suffered and some compensation for their pain and suffering. Your Flint nurse malpractice attorney can offer an estimate of the total compensation you could secure if you win your case.
How Much Will It Cost to Hire a Flint Nurse Malpractice Attorney?
Most of the medical malpractice attorneys practicing know that the average person cannot afford expensive upfront legal fees, especially when reeling from the economic impact of a serious medical malpractice-related injury. To account for this, attorneys will use contingency fee billing for clients in these cases. With a contingency fee, the client only pays their attorney a percentage of the total amount of compensation the attorney wins on their behalf. Additionally, they will only pay this fee if and when the attorney wins their case, eliminating the risk of the client's legal fees overshadowing their case award.
Goethel Engelhardt, PLLC, has years of professional experience handling all types of medical malpractice cases for clients in Flint and surrounding communities. We have a strong record of successful cases behind us and a reputation as a leading choice for legal counsel for all types of medical malpractice claims, including nursing malpractice. If you were harmed by the negligence of a nurse, we can help. Contact us today to schedule a free consult with a Flint nurse malpractice attorney you can trust to learn more about the legal services we offer.