Flint Spinal Surgery Attorney
Spinal neurosurgery is one of the most complex areas of modern medicine. These procedures involve operating on the spinal cord, one of the most important structures of the human body. The spinal cord is a thick cord of nerves that extends from the brain down through the bones of the spinal column and into every region of the body, allowing the brain to communicate with and control all parts of the body. It is also one of the most sensitive parts of the body and is highly vulnerable to traumatic injury.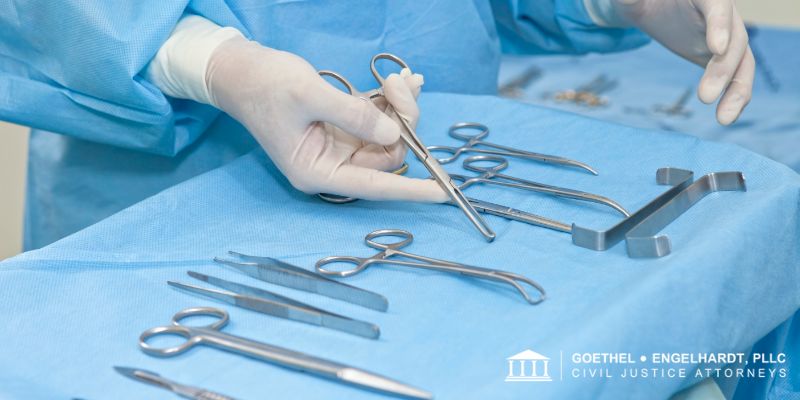 Legal Representation for Spinal Neurosurgery Injury Claims in Flint, MI
Many people under spinal surgeries in Flint, Michigan each year, sometimes in response to traumatic accidents and in other cases to address degenerative conditions that have manifested over time. If you recently underwent any spinal neurosurgery and sustained an injury from the procedure, it is vital to assess whether the injury resulted from malpractice.
The team at Goethel Engelhardt, PLLC, has years of professional experience guiding clients through all types of medical malpractice cases in Flint, including those arising from botched spinal neurosurgery. We know the damage that this type of injury can cause and the high risk of permanent disability that comes with any type of spinal cord injury. We can assess whether you received appropriate care or whether the doctor who treated you violated your standard of care and caused your injury.
How to File Your Spinal Neurosurgery Injury Claim
A medical malpractice claim is technically a type of personal injury case, but there are special rules that apply to these cases that you must understand before proceeding with your legal efforts. Before you can file a medical malpractice claim in the state, you must obtain an affidavit of merit that supports your case. This is a signed statement from an appropriately credentialed medical professional explaining how the defendant in your claim violated the appropriate standard of care you should have received for your condition. This affidavit must come from a medical professional who holds the same or greater credentials and medical board certifications as the defendant.
You must provide this affidavit with a Notice of Intent to File Suit to the defendant at least 182 days prior to the actual filing of your claim. At this point, it's possible for the case to proceed to settlement negotiations if the defendant accepts liability. This will allow them to secure a speedy resolution to the case and save money on legal fees. However, if settlement is not possible for any reason, the case will need to be resolved through litigation, and a judge will have the final say on the outcome of the case.
Spinal neurosurgery always entails some degree of risk, but there is a clear difference between an honest and understandable mistake made in good faith during a difficult and inherently risky procedure and an injury resulting from professional negligence. Your Flint spinal surgery attorney can be an invaluable asset for every stage of your case, from gathering the evidence you need to prove your injury resulted from medical negligence to proving the extent of your claimable damages and securing compensation from the defendant.
FAQs About Flint, MI Spinal Neurosurgery Laws
Can You Sue for Post Laminectomy Syndrome?
Post Laminectomy Syndrome is a medical condition associated with back surgery, characterized by chronic pain in the neck and back following back surgery. Every surgical procedure entails some degree of risk, but if you developed post-laminectomy syndrome from negligently performed back surgery, this could form the basis of a medical malpractice claim.
Can You Sue for Cauda Equina Syndrome After Back Surgery?
The cauda equina is the cluster of nerve root cells in the spinal column situated above the pelvic bone. If this area is damaged during surgery, it is very likely for the victim to experience cauda equina syndrome, a condition characterized by chronic lower back pain and limited mobility in the affected area. If this condition resulted from botched spinal neurosurgery, this could form the foundation of a medical malpractice claim.
Are Spinal Cord Injuries Always Permanent?
The spinal cord cannot repair itself the way the rest of the body can after experiencing a physical injury. Unfortunately, any spinal cord injury is permanent, and the scope of the injury depends on its location and whether the spinal cord is damaged or completely severed. A complete spinal cord injury will cause paralysis in the region of the body connected to the spinal cord below the injury site.
How Much Money Can I Claim for a Spinal Neurosurgery Injury in Flint?
The damage resulting from any spinal neurosurgery injury can be significant, but unfortunately, State law does limit how much compensation a victim could potentially recover from their successful medical malpractice claim. You have the right to seek full repayment of any economic damages you suffered, such as the cost of corrective medical treatment, lost income, and lost future earning capacity if you were permanently disabled from the injury. When it comes to pain and suffering, The state limits the amount a plaintiff can claim, even if they sustained permanent harm. Your Flint spinal surgery attorney can estimate your case's total potential value.
Why Should I Hire a Flint Spinal Surgery Attorney?
You have the right to attempt your case without hiring legal counsel, but this would be extremely risky for several reasons. You could make procedural mistakes with the filing of court documents, struggle to secure the affidavit of merit you need to file the claim, or you may miss procedural deadlines that jeopardize your ability to recover your damages. Hiring an experienced Flint spinal surgery attorney can help you avoid these issues and maximize the results of your case.
The team at Goethel Engelhardt, PLLC, has years of experience handling a wide range of medical malpractice claims for our clients in Flint and surrounding communities. We have helped our clients overcome some of the most challenging cases, including spinal surgery claims involving permanent damage. Whatever your case entails, you can trust our firm to provide comprehensive and responsive legal guidance through all stages of your proceedings and to help maximize your recovery. Contact Goethel Engelhardt, PLLC, today to schedule a free consult with an experienced Flint spinal surgery attorney and learn more about the legal services we provide.