Kalamazoo Area Birth Injury Attorney
Welcoming a new child into the world should be a cause for celebration for any family. Unfortunately, many families in Kalamazoo and surrounding areas of Michigan experience unexpected birth injuries that can sometimes result in permanent disabilities. If your baby was injured during childbirth,  you should contact a birth injury lawyer to learn about your baby's legal rights.
Representing Birth Injury Claims in Kalamazoo, MI
A birth injury claim is a type of medical malpractice claim. If your family has recently experienced a birth injury due to a Kalamazoo-area medical professional's failure to meet the standard of care during childbirth, you may have a medical malpractice claim. It is crucial to find legal representation that you can trust to guide you through the process.
The attorneys at Goethel Engelhardt, PLLC, have years of professional experience with all types of medical malpractice cases, including birth injuries. We understand how traumatic these situations can be and the lifelong effects they can have on you and your family.
If you believe that a medical professional breached the standard of care required during the birth of your child, it is vital to have an experienced attorney investigate the details and determine whether you have grounds for legal recourse.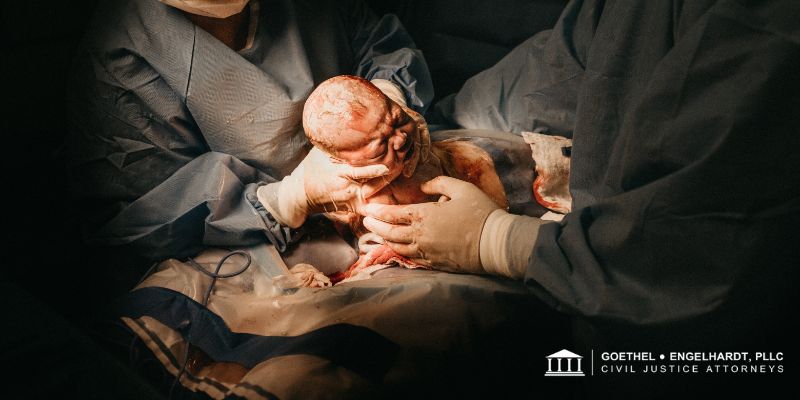 Damages in a Birth Injury Claim
Your birth injury attorney can evaluate the full scope of damages which occurred because of negligence, which may include your child's future needs. .  Your attorney can help accurately calculate these losses adding the result to your claim as economic damages. As well, they can determine a suitable amount that reflects the extent and severity of the birth injury.
What to Expect From Your Birth Injury Attorney
When you choose Goethel Engelhardt, PLLC, to represent your birth injury claim, you will have a responsive and compassionate legal advocate available to help through every step.  We have years of experience helping clients in Kalamazoo and surrounding communities with all types of medical malpractice cases, including birth injury claims.
We want to help you understand the legal process and navigate your case as successfully as possible. We can help gather the evidence and expert witness testimony needed to form the foundation of your claim and assist you in filing it with the court.
FAQs
Q: Do I Need a Lawyer to File a Medical Malpractice Suit?
A: Success with a medical malpractice claim is far more likely when you have experienced legal representation on your side. Your experienced medical malpractice attorney can streamline your case, ensuring the case is filed timely and properly, meeting all the necessary legal requirements.
The right legal counsel can make a difference in the outcome of any medical malpractice claim, including birth injury claims. The team at Goethel Engelhardt, PLLC, has the professional resources and experience you need on your side to feel more confident about the difficult proceedings ahead. Contact us today to schedule a free consultation with a Kalamazoo birth injury attorney to learn how we can help.